Compare company car trackers
Keep track of your car's location, L/100km & more
Data reports to save on fuel, insurance & motor repairs
Get deals in 30 seconds

Car tracking device features
Our purpose is to save you time and money. We are experts at scouring the market, sourcing the best deals and passing them on to you.
Trackers for cars help keep you in control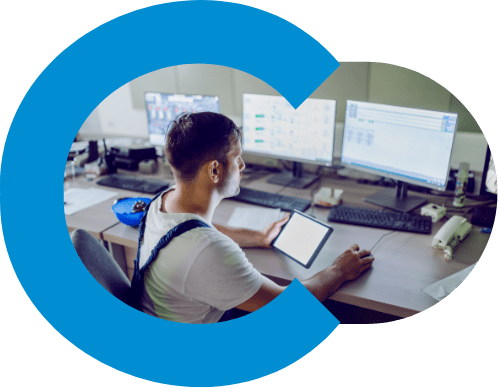 When it comes to keeping your company cars safe and productive, car tracking equipment is the best investment.
No matter how many cars your business uses, you should utilise company car tracking devices for their added benefits. From better car management to cost savings, a car tracker in Ireland can be essential to any business.
Reduce costs: A car tracker helps to reduce running costs, insurance premiums and fuel costs.
Improve car security: Tracking your cars' movements and location at all times can be very useful.
Motivate drivers: A car tracking device monitors driver behaviour and you can reward good driving.
Business benefits of investing in a car tracker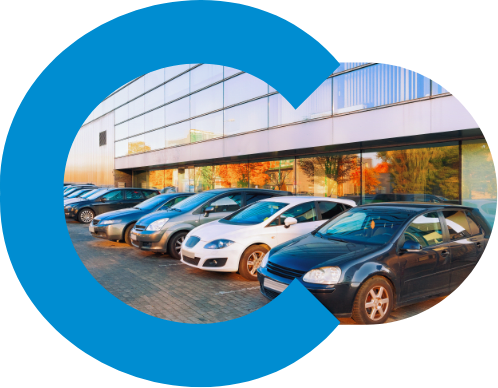 The best car tracker in Ireland increases productivity
Being able to see exactly where your cars are and how they're being used, can increase the overall productivity of your business. You'll be able to review how efficient your routes are, see unauthorised use and better evaluate overtime requests.
Control your expenses with car trackers
Using data reported by your car tracking device can identify areas where you can cut costs. For example, keeping speeding incidents under control and optimising your driving routes can save fuel. You can also reduce your fuel consumption with driver report data from your car tracking equipment.
About your business
Tell us about your business, your needs and the data you want from your car tracker.
The best offers
We compare your needs with car trackers in Ireland and get quotes on the best matches.
Start tracking your cars
Then we check your details and pass you over to the relevant company to get you started.
Frequently Asked Questions
A tracker for cars is a solution that offers complete monitoring of your company cars and your drivers. The technology itself is often referred to as telematics. It consists of GPS car tracking devices that gather data about your company cars.
Basically, company car tracking is designed to record and analyse driving and vehicle data. It can transmit your company car's location in real-time, as well as provide a range of useful vehicle data to help you manage your business more efficiently. Based on this data, you can cut costs such as fuel and maintenance costs, you can improve security and boost your business productivity.
The data is cloud-based, which means you can access it any time and from anywhere as long as you're connected to the internet.
A car tracking device uses GPS technology. It receives data from the battery-wired GPS trackers installed on your company cars. It transmits the data either using SIM cards or through GPS satellites. The data is continuously transmitted to a cloud-hosted software platform, where you can check it from any internet-connected PC or mobile device.
An accelerometer can be installed with the tracker for your car. This lets you quickly identify possible collisions and any aggressive driving behaviour from your drivers. You can tackle these issues, set up safe driving inductions and train your drivers to lower the risk of accidents, wear and tear and fuel waste.
Not with ease, it's actually quite difficult to disable a car tracker. The best car trackers in Ireland will trigger an immediate automatic alert to the car owner or business manager if a loss of power occurs. You'll immediately know the car tracker has been tampered with and you can quickly alert the police if this is the case.
Some company car tracking devices can also come with another anti-theft asset tracker with its own internal power supply, in addition to the car tracker wired to the battery. This can be hidden anywhere on the car. It's used by national recovery teams who work with the police to track down stolen cars. It transmits two other types of signal, apart from the GPS one, which even work underground.
The cost of a car tracker in Ireland varies a lot depending on what you need it to do or how advanced the features and reports are. It also varies depending on how many cars you want to track, as there are providers who offer discounts on bulk orders. Plus, the longer the subscription you get, the lower you'll end up paying per month.
The amount of hardware you want installed and the data volume you're collecting can also influence the price. As does the quality of the hardware and the number of other services you get. For example, choosing dash cams as part of your car tracking solution, means you'll pay more.
The best idea is to compare the market to find the best tracker in Ireland for your cars. It'll save you time and effort and guarantee you the best choice.
The best car tracker can bring many benefits to any business, no matter its size or how many company cars it tracks:
Track your company cars in case of theft.
See exactly how effective your drivers are and how they're driving your cars. Make sure your drivers behave well when they represent your company.
Save on fuel. Based on accurate reports, you can can track which vehicles waste the most fuel and tackle these issues.
Advanced car tracking includes vehicle diagnostics. That'll help you keep track of any needed maintenance works and avoid breakdowns and costly repairs.
Your business needs should dictate which car tracker to get. You will want to know exactly what you expect from your tracker, what type of hardware you're looking for, what kind of data you want to gather.
You'll want to compare prices and check if you get support or advanced features like car theft recovery.
For that, you need to compare the market and choose. Or let us do the job for you. As market experts, we'll scour the market and find you the best deals for your business needs.