Find the perfect fuel card
We compare the most popular fuel cards on the market today
Why Telematics?
Running company vehicles can be expensive which is why it is important to make sure they are secure and being run efficiently. Telematics can help with this by allowing you to monitor the following:
Your vehicles location so you can make sure your vehicles are secure and are where they're supposed to be.
How your vehicles are being driven to allow you to highlight any areas of bad driving and fix them before it costs you money.
How your vehicles are performing to help highlight any areas where repairs may need to be made to keep your fuel consumption as low as possible.
It's not just your vehicles that can benefit from telematics, your company's trailers, machinery and other assets can benefit too.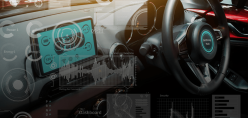 Vehicles equipped with GPS satellite receivers trace and then transmit the location to an operator. There are a wide range of providers selling telematics, so it's important to select the right type of system for your business at the outset. Telematics systems range from simple low cost smartphone-based apps to sophisticated multi-functional solutions.
For any business reliant on mobile operations to deliver goods or services, telematics is increasingly seen as an essential management tool. But when choosing a telematics system, there are some important considerations you need to make.
Lang - en-ie
Lang substr - en