Our purpose is to save you time and money. We are experts at scouring the market, sourcing the best deals and passing them on to you.
Tell us what you need
Office networks, mobiles, SIM-only, internet, office software and more.
We filter the offers
We compare your profile with the products and services on the market, to find the best deals.
Get your perfect solution
We check your details, connect you to the right company and they get you up and running.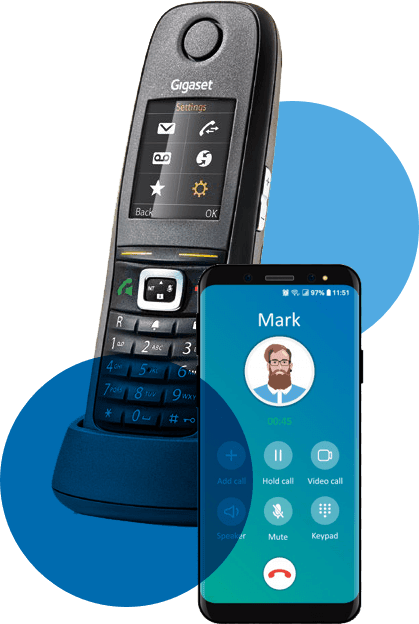 Who are we?
iCompario is run by a small team of professionals with industry backgrounds in vehicle tracking, fuel sales, telecoms, financial research, writing and IT which stretch back 25 years. We launched iCompario in 2017 and the original team is still here, but growing fast!
Frequently Asked Questions
Mobile Device Management (MDM) software is used by IT departments to keep track of, and manage, employees' laptops, smartphones, tablets and other devices.
Mobile device management software stores information in the MDM server about who has each device, and it can physically locate them. IT departments can use mobile device management software to view the screens of company devices remotely and provide real-time support. It remotely installs or removes apps on mobile devices and can install new software on laptops, for example. It can be used to manage devices that access sensitive business data, keeping their security software up to date with constant updates and wiping lost devices to make sure their data doesn't fall into the wrong hands.
IT administrators set, adjust and change policies on a central MDM server console, defining how employees can use their devices while connected to the company network. Once they finish, they instruct the MDM server to transmit the new policies to all the user devices. Finally, the MDM application automatically applies the changes to their devices.
The benefits of mobile device management software are security, cost benefits, time saving and convenience.
MDM improves productivity among employees by allowing them to access corporate data on the go, using corporate or personally-owned mobile devices. Once employees have their devices in their hands, MDM helps them get set up on their corporate network much faster. This saves their time and also time for the IT department.
Mobile device management or MDM software protects data security and prevents the data breaches that lose companies money every year. MDM software can make sure employees are taking the necessary security steps on their personal and company devices by coordinating security measures. For example, MDM software can configure devices to protect data, or can remotely lock lost or stolen devices. It can also set limits on the information that users can access, and define which data should be shared and which should be deleted after it's used. This is essential in some business sectors such as financial services, where regulatory compliance includes keeping data safe.
Using mobile device management software can save money. You can make sure devices never go missing and allow BYOD (Bring Your Own Device), a new trend that is helping companies to reduce expenditure. Employees' use their own personal phones for work and the company pays the bill, rather than buying phones for employees. Mobile device management software can make this simple to organise, and secure.
Mobile device management software makes the job of the IT department faster and easier. They can control device updates, carry them out remotely and even set up automatic software updates.
Mobile device management relies on two things: an MDM server, and the MDM application, which is software installed on devices or 'user endpoints'. The internet connection between the device and the MDM server allows the person at the MDM server end to control the devices remotely.
The uses of mobile device management software go well beyond simple permissions and access restrictions. IT administrators can use the central MDM console to transmit software and app updates remotely or install completely new programmes on employees' computers, tablets and phones. Any policy or other setting compatible with the device operating system can, in theory at least, be set from the MDM server.
A cloud-based phone system, or cloud phone, is one type of VoIP phone system. Instead of storing the network and routing elements of a business phone system somewhere in your office, cloud-based telephony takes everything off site.
This type of phone system is hosted in the cloud, which essentially means your data is securely stored on a server that can be accessed via the internet. Rather than maintaining software via a server such as a private branch exchange (PBX) on the premises, all information and data are stored in the cloud, such as your phone numbers and call logging data. This makes maintenance and updates cheaper and easier.
When switching from a traditional phone system to a cloud telephony system, you will not notice any major differences. You make and receive calls in the same way. Behind the scenes, though, calls are sent directly to your phone rather than through switches in an exchange in the office.
Voice over Internet Protocol or VoIP phone calls are all made via the internet. There are four main types of VoIP technology.
Integrated access VoIP lets you keep your old phone numbers and equipment, while gaining additional telecommunications features that could not get with the old phone system. It integrates VoIP software with your existing, legacy phone system.
SIP Trunks or Session Initial Protocol (SIP) trunks transmit voice and video information across a data network. A SIP trunk can either replace your traditional analogue phone network, or integrate with it by using a VoIP gateway. This means you can have shared lines, which are more versatile. Because all data is sent over a network, SIP trunks work well with cloud technology, and are easy to integrate with the Private Branch Exchange (PBX) telephone systems that many offices currently use.
With a hosted Internet ProtocoI PBX, a provider hosts and operates the private branch exchange for you in the public cloud. Your business connects to this via its IP network. The necessary hardware is maintained off-site by the provider, who takes care of the servers, software, maintenance, security and upgrades for you. This makes it much cheaper to get started and keeps your ongoing costs lower, too. Typically, VoIP with a hosted IP PBX offers a control panel for you to manage and monitor your phone system and use features like on-hold music or messaging, call queueing, auto attendants and more. Hosted IP PBX is popular with care homes and clinics because it tends to be very reliable.
Managed IP PBX is similar to hosted, except the equipment is housed on your own business premises in a private cloud. Your provider typically charges a flat fee, based on number of phone lines, and installs all the equipment you need. It is also their responsibility to configure, update and upgrade the technology for you, as necessary.
You can use a computer instead of a phone: You can use VoIP without actually having a phone, instead using some software installed on your computer or, with some systems, even just a browser. This is called a softphone, short for software phone.
Take your phone number anywhere, on any device: You can use your VoIP phone number anywhere that you have a VoIP-enabled device connected to the internet. This includes trains, other people's offices and the great outdoors. If you're starting up or cannot afford a PA or receptionist, this is the ideal way to never miss a call.
Multiple calls at once: VoIP is very good at handling multiple calls at the same time from the same business location. The number of calls you can at once depends on your internet bandwidth, rather than on the number of physical phone lines on your premises.
No need for wires: VoIP does not need physical phone lines, and it allows you to make multiple calls without additional charges. Traditional copper phone lines can cost a lot as there are installation fees and line rental charges.
Cheaper calls: And finally, one of the greatest advantages of a VoIP phone system is the cost-savings you can benefit from. Since all you need is an internet connection, this tends to be a cheaper way to make phone calls. International calls cost no more than local calls when you use a VoIP system.
Session Initiation Protocol or SIP is just one of the possible "protocols" you can use for VoIP communications.
The 'trunking' element is a confusing term. A a trunk used to refer to a bundle of physical phone lines shared between users, but SIP has done away with the need for this. Modern trunking refers to a virtual link between your company phone network and the standard phone network, using an internet connection.
Now that old ISDN phone lines are being phased out, SIP trunks that rely on the internet instead are becoming the industry standard for connecting business phone networks.
SIP trunking is just one of the protocols used for VoIP telephony. This means the benefits of IP trunking are the same as the benefits of VoIP.
You can save money: With ISDN and traditional telephony, businesses often end up paying for capacity they never use. SIP trunks are packaged more accurately around your business' actual usage.
Cheaper: Once you are set up with a SIP trunk provider, line rental and calls are usually much cheaper. This is a particular benefit for companies that make a lot of outbound calls, such as full-time sales teams.
Phone numbers are not tied to countries or regions: SIP trunks are not tied to any particular geographic location, so you can choose any number, regardless of geography. You can move office, even to a different country, and keep the same number.
Add or remove numbers easily: Adding new phone numbers as you hire new employees, and upgrading the capacity to handle more calls at the same time, is easy with SIP trunks. There is no need to install new lines.
Talk and media files go down the same line: SIP trunks allow you to make calls and send files of all types down the same line at the same time, This means you can have a conference call and screen-share, for example, or have two people editing the same document from different places in real time.
Get set up very fast: Getting set up with a SIP trunking phone system is a virtual, rather than a physical installation. It usually takes 48 hours at most. Most organisations can just use their existing internet connection.
With a private cloud, you get your own physical server and other hardware. Private cloud used to mean purchasing servers and setting them up within your own office building, inside the protection of your own firewall and supported and administered by your in-house IT staff. Some organisations are now building private clouds on rented premises instead. The advantage of these is that they come with electrical power back-ups, fire-prevention measures and other benefits as part of a shared service which makes them more economical. The advantage of using a private cloud infrastructure is the amount of control that the company retains over security measures and system performance. By employing their own staff to manage security and maintenance, they have full control over each area.
Public cloud solutions are server space rented from third parties. These cloud providers usually take responsibility for maintenance and security. Amazon Web Services and Microsoft Azure are two of the best-known providers. The main advantage of using third party public cloud providers is that you do not have to purchase your own servers or manage services internally. You can hire extra servers and services when you need them, which vendors usually describe as a "scalable solution".
With a hybrid cloud, companies split their data between a private cloud infrastructure and a public cloud infrastructure. A hybrid cloud puts your confidential and sensitive data on a highly secure private cloud, while everything else goes on the more economical public cloud. A hybrid cloud solution is usually less expensive than buying and maintaining servers on your premises for absolutely all your data.
With a colocation service you can house your privately-owned servers and networking equipment in a highly secure and robust data centre. This type of data centre facility is safer and more cost-effective than maintaining your servers on site.
Typically, a colocation provider offers the building, cooling, electric power and back-up power, bandwidth and physical security, whilst the customer provides servers and storage. Space in the facility is often leased by the rack, cabinet, cage or room. Many colocations have extended their offerings to include managed services that support their customers' business initiatives.
In the past, colocations were often used by private enterprises for disaster recovery. Today, colocations are especially popular with cloud service providers.
There are several reasons a business might choose a colocation service rather than building its own data centre. The main one is that it saves the lump sum cost of building, maintaining and updating a large computing facility.
There can be downsides to colocation, however. Distance can translate into increased travel costs when equipment needs to be maintained manually. Another pitfall is getting locked into a long-term contract, which you may not be able to re-negotiate when prices fall. It's important to examine any colocation service level agreement carefully so as not to be surprised by hidden conditions or charges.