The Best Fuel Card for Electric Cars in Ireland for Businesses
Tired of having a bunch of apps on your phone just to charge up? EV fuel cards are the answer you're looking for. Many of these are hybrid fuel cards to let you buy petrol, diesel and electric all on one card. It's all about making the green energy future convenient for your business.
Compare now to see which fuel card for electric cars or vans best fits your business needs. Or scroll down to see our reviews of some of the most popular electric car fuel cards.
Best fuel card for electric cars and vans: DCI One REV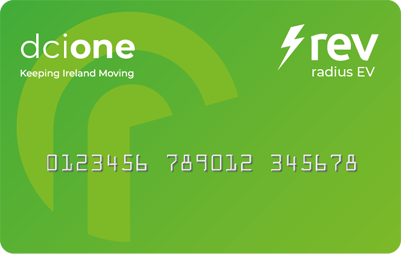 Suitable for all vehicle types
Varied network in Ireland and Northern Ireland
Online fleet management system
PIN-protected cards for more security
For all businesses and fleets in Ireland, the DCI One REV is your best electric fuel card option. This is because the network is a good size with lots of variety.
All prices are clear on the card's app. Because there are a bunch of different brands available on this one card, you get to shop around and choose a charge point within your budget.
The DCI One REV is also a hybrid fuel card. All your drivers, whether they're in a plug-in car or diesel truck can make use of this card. The major benefit of this is the convenience it offers. The transition to electric energy takes time and the DCI card is flexible enough to fit every stage of your plan.
For businesses, few fuel cards for electric cars can compete with the DCI One REV's management system. Log on to your phone, desktop or tablet to see how much you're spending on fuel. It's easy to filter through each card, so you can check how much your drivers are spending.
Should you use DCI One REV?
Most sole traders and businesses in Ireland should consider it.
The reason why fuel cards are so popular is they quickly generate HMRC-approved invoices for you. You use these to reclaim on VAT for your fuel expenses. You could be missing out on reclaims if you're not filing for your electric vehicle properly.
The DCI One REV has a big, varied network to suit a wide range of business types whether you're just dipping your toes into EV or have a whole fleet of electric vans.
What about RFID cards and apps?
Many electric charging station brands have their own app or RFID card, so your wallet and phone can quickly get clogged up by all the different services. We recommend using an electric fuel card instead.
Most apps and RFID cards are designed for personal use and don't have businesses in mind. While fuel cards have an online account to track your usage and send you automated fuel invoices, apps mostly leave you to do the hard work yourself.
If you're going to use an app or RFID card, you should find one that includes a variety of station brands and decent coverage.
How do you pay for EV charging stations?
You can use your electric fuel card to pay for your charging. Most charge points let you tap the charge point with your card to let you pay contactless.
Is it worth getting a hybrid fuel card?
Yes. Having a separate payment method for your plug-in vehicles can get confusing and forces you to spend more time on paperwork than you need to.
Plus, downloading different apps and cards for the EV network quickly clogs up your phone and wallet. Having an electric fuel card makes your payments faster and easier.
Can I use a fuel card for electric cars?
Yes. More brands now offer electric fuel cards, including the BP Pulse card and UK Fuels FleetOne REV but most of their networks don't extend to Ireland. The DCI One is the best electric fuel card you can get.
What are EV fleet cards?
EV fleet cards are fuel cards for electric cars, vans or lorries. Each driver in the fleet is assigned a card. The best electric fuel cards for fleets come with a fleet management system, which lets you track each driver's usage on your online account.
Getting electric fuel cards for your fleet makes management easier. Some cards, such as the DCI One REV, also work for hybrid fleets.
How to get electric vehicle fuel cards
Compare EV fuel cards to find your best option
Fill in an application form
Get your fuel cards in the post
Ready to get your fuel card? The process is quick and easy. First, all you have to do is compare fuel cards for electric vehicles. We'll show you which card best matches what you need after a couple of clicks.
Once you've found your match, you'll have to fill out an application form. Once your application gets accepted, you'll get your electric fuel cards in the post.
Got EV fleet cards? Assign a card to each of your drivers on your online account.