How to save time and money with fuel cards
Fuel cards can save you time and money. The cards offer exclusive discounts for users on pump prices at top brands in Ireland. To save time, you can use fuel cards to receive monthly fuel invoices online instead of filing paper receipts. This makes management tasks and VAT recovery much faster.
How much money a fuel card could save you depends on your business and what card you choose. Choosing the right card for your business is critical to access the best fuel card savings at stations on your routes.
Best fuel card savings in Ireland
One of the best ways for businesses to save money and time is to use fuel cards. Businesses and sole traders can apply for any of these cards, but some of them might help you save more than others depending on your business type. Keep reading to see which fuel card suits your business the best.
Fuel Card
Price type
Where to use it
 
Guaranteed discounts at the pump
1,270 in IOI

3,000 in the UK

 
Fixed weekly prices
1,300+ in IOI
 
Competitive fuel prices every week

1,670+ in IOI

 
Transparent prices for EV charging
1,352 in IOI
1,000+ charge points
Best card for discounts: DCI Pump Saver
Discounts on pump prices across Ireland and UK
One of the most widely accepted cards in Ireland
Weekly notifications of fuel price discounts
The DCI Pump Saver card is the best card overall if you're looking for a bit of discount every time you refill. How much the discounts are varies a little every week. It could be 0.02€ off a litre one week, then a bit more the next.
At the very least, you're always guaranteed something off the pump price. And they send you price alerts every week, so you can find the biggest discounts at stations near you. There's lot of choice here too as the card is accepted at Circle K, TOP, Texaco and more
Best for fleet management: DCI One
Detailed fleet reporting system to manage fuel
Competitive fuel prices at seven brands
Biggest Irish HGV network
Fuel card savings are a bit more complicated when you're dealing with a fleet. Fleet fuel cards need to include a good management system and competitive prices. The reporting tools on the DCI One account are detailed with a breakdown of mileage, total spending and fuel usage for each card you have on your account.
The best thing about the DCI One is its prices. The card has competitive fuel prices at a wide range of brands across IOI, more than most other fuel cards on the market.
Smaller fleets and solo truckers don't need to worry about extra fees either. There's no minimum spend for fuel every month like there is on other fleet cards, so you can use just what you need without extra hassle.
Best for electric vehicles: DCI One REV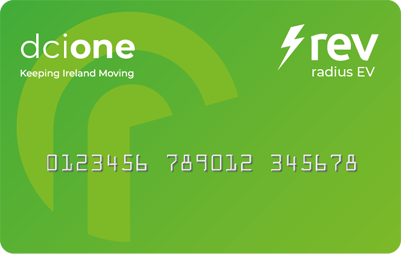 Suitable for EVs and hybrids
Bargain fuel price phone and app alerts
All fuel costs on one invoice for easy filing
More and more drivers are looking to reduce carbon footprint, but cutting your carbon emissions from transport can be difficult. For EV drivers using public chargers, it can be a real problem to find a well-priced charger available with any current app or card you have.
To save you time and cash, get an EV charge card. The DCI One REV is just like its petrol and diesel siblings, but with an extra 1,000+ EV charge points available on its network. For mixed fleets, EV and hybrid drivers, the DCI One REV is the best option.
Do fuel cards save you money?
Yes. Fuel cards can help drivers of any vehicle to save money. Cards can give discounts on pump prices, but the discount amount can vary depending on the station and your fuel card provider. Sole traders and businesses can easily get fuel card savings to greatly reduce fuel costs in the long term.
iCompario tip: choose between pump and fixed prices
The two major price options you'll see for fuel cards are pump discounts and fixed prices. Pump discount prices offer a small discount off regular pump station prices at accepted brands.
Fixed prices change the litre price every week, so your fuel price is set for a good amount of time instead of changing every week as regular pump station prices do. This can unlock large discounts, especially for fleets and bulk buyers. See our guide to pump prices vs fixed prices for more detail.
Best fuel card savings features
Fuel cards can help businesses save money and time in many ways. Some of the fuel card benefits around saving money are:
Alerts to discover lower prices
Easier recovery of VAT and budget management tools
Keep reading to see the details on these top features
Fuel card discounts for lower prices
Many fuel cards offer discount prices at pump stations. These cards send discount updates directly to your inbox or phone via app notifications, so you can easily find nearby stations offering exclusive lower prices.
Having even a small discount off regular pump prices means big fuel card savings in the long run for businesses of all kinds.
Recover VAT based on your usage, not estimates
Every business and sole trader should claim back VAT whenever possible. Most businesses use estimates based on a couple of months' worth of receipts. However, using estimates can greatly underestimate how much fuel you're using and mean you're submitting inaccurate evidence.
Fuel card invoices are sent straight to your account and/or email inbox. You can download them anytime and submit them as evidence of your VAT claims.
Save time on paperwork
Another paperwork nightmare and time-consuming task is the collection of VAT. With a paper-based receipt system this can mean hours spent trawling over hundreds of stored receipts. Receipts get misplaced, lost, or are unreadable, and will mean not being able to reclaim the full amount due.
With fuel cards and account management, all business fuel transactions are automatically detailed on a single, easy-to-read invoice, compliant with the Office of the Revenue Commissioners or the EU 6th Directive for hassle-free VAT reclaiming.
Check your transaction history online
Double-check exactly how much fuel your drivers are using anytime. The best fuel cards include a free online account to let you check your spending from your phone, tablet or computer.
This is an essential feature for all drivers and managers. Sole traders can use this account to make sure they're on budget, check their mileage and adjust routes as needed to use less fuel.
Managers will make the most use of fuel card accounts. Here, you can check the spending and mileage of each card you have on your account. See who your most efficient drivers are and improve your fleet efficiency.
Use your fuel card without interruption
When choosing a fuel card, it can be beneficial to opt for one which provides a service station locator tool. This is especially useful for efficient route planning, with details of suitable refuelling stations along the selected route, and real-time traffic updates.
These tools help drivers avoid congestion, and long detours to refuel, saving time and to reduce fuel usage and spending.
How to get fuel card savings
Accessing savings from fuel cards is only possible when you've got the right kind of card for your budget and business needs. Follow these steps to find your card, apply and get savings now:.
1. Compare fuel cards to see which ones are right for you. We'll show you the top results and you get to choose which option suits you best.
2. Apply for your fuel card online. You'll need to fill in a fuel card application. The application can be done online, but our team is available over the phone for further guidance.
3. Your fuel card application is sent to your chosen provider. They complete a quick credit check. Once your application is approved, you get your cards in the post.
4. Use your fuel card to make an online account with your provider to get the best features and support to save money.
5. Go to your nearest pump station and get fuel at discount prices.
Read more about fuel cards on iCompario
Business fuel cards in Ireland guide
Pump Price vs Fixed Price – What are the cheapest Fuel Cards?
Who Are The Best Fuel Card Providers I Can Use?