Best Fuel Card for Trucking Companies in Ireland
Get fleet fuel spending discounts
Track driver fuel efficiency and your budget
Get fuel truck cards to use across IOI
The best 3 fuel cards for trucking companies
We've dived in deep to the small print to find the top truck fuel cards to use through the island of Ireland. The best fuel cards for truckers in Ireland are the DCI One, Fuel Plus and DCI Main Route.
Keep reading to see the differences and find out which card would suit your business best.
| | | |
| --- | --- | --- |
| Fuel Card  | Best Feature | Where to Use It |
|   | No minimum monthly spending requirement | Circle K, TOP, Texaco, EMO, Maxol, Campus, Amber Oil |
|   | Good online account management | Circle K, TOP, Texaco, EMO, Maxol, Campus, Amber Oil |
|   | Accepted at major HGV locations | Circle K, TOP, Texaco, EMO, Maxol, Campus, Amber Oil |
Best fuel truck card for smaller fleets: DCI One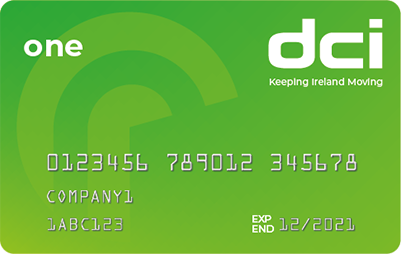 Accepted at the largest network
Pin-protected cards and online account system
Largest network for HGVs in Ireland
Smaller trucking companies and sole traders should look for a fuel card with no minimum monthly spending requirements and competitive fuel prices. Out of all commercial truck fuel cards, the DCI One has the most features suitable for smaller truck fleets and a good-sized network.
The DCI One is accepted at over 1,400 stations, including over 275 HGV-friendly locations in Northern Ireland. Pay competitive fuel prices across the island.
Best for truck fleet management: FuelPlus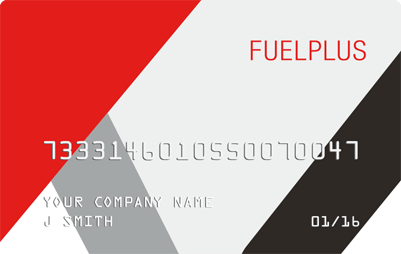 Free online management account system
Easily reclaim VAT with Revenue approved invoices
Mobile app to find nearby stations
Fleet management is the foundation of every trucking company. To make the best use of your management skills, get an online account.
On the FuelPlus account system, you see how much each driver is spending and using. This can help you find your least efficient drivers and vehicles that are affecting your budget. Used alongside telematics systems, this is a powerful tool to cut costs.
Finding places to use your card is the most annoying part of fuel cards. Luckily, the FuelPlus is one of the most widely accepted cards on the island thanks to its varied network. Plus, it has a handy mobile app that drivers can use on the go to find nearby stations that accept their card.
Best for HGV fleets in Ireland: DCI Main Route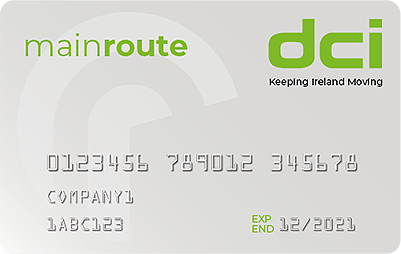 Price management support at major locations
Fixed weekly fuel prices for diesel
Accepted at main HGV stations in Ireland
The DCI Main Route card is built for HGV drivers making their way along the island. Finding a place to use this card along major routes is no great struggle. Many of these stations are open 24/7 too.
One of the best ways to manage a fleet's fuel costs is to choose fixed prices. This card sends a fuel price report straight to your inbox every week.
No need to Google where the cheapest station is near you – just check the price report and see your prices for the week. Avoid local price hikes with the swipe of card.
What are commercial truck fuel cards?
Fuel cards are an alternative payment method. They can be used like a debit card to pay for fuel at your station. Commercial truck fuel cards are widely accepted at HGV stations, give discounts on diesel prices and give your business easy to use VAT invoices for a faster reclaims process.
How do I use fuel truck cards?
Using truck fuel cards is as easy as following a few simple steps.
Check where your fuel card is accepted on the card's app or website
Go to one of the accepted stations near you
Fill up your truck
Go to the checkout and pay using your card
Check your fuel usage on your online account to see your total spending
Are fuel cards for trucking companies worth it?
Yes. Fuel cards for trucks are a convenient way to pay for fuel that can help cut costs in many ways from fuel price discounts to easier management. Here are the top four reasons to get commercial truck fuel cards.
1. Manage your fleet's fuel costs
The average fuel spend per vehicle is an eyewatering €32,285 (£28,307.49) every year according to a 2019 report from FTA Ireland. Reducing the cost of fuel by even just a small percentage per litre has a huge impact over time.
Fuel cards are the best way to manage your spending. Receive fuel price updates every week and refill knowing you're getting a competitive price for your fuel.
2. Faster payments for fuel
Paying with cash slows things down for everyone, including business owners. Collecting receipts and invoices from drivers can quickly clog up your administration time.
Spend less time rooting around your bag for change. Drivers can use fuel cards to pay with no need to collect receipts in person, because you get them all on your online account.
3. Find competitive diesel prices
Cutting down on fuel costs is the dream of every fleet owner. Fuel cards can help you save money by offering lower prices. Most HGV cards are fixed price, meaning you get updated fuel prices every week. These can be lower than pump prices.
4. Fuel invoices for faster tax reclaims
But the biggest win is the fuel invoices. These invoices are Revenue approved, which saves lots of time when you need to file your claims. Invoices from fuel cards also give you accurate information, so you don't need to rely on calculations that could underestimate your usage and reduce your claims.
How to get fuel cards for trucking companies
Our team can help you with your next steps. To get a commercial truck fuel card, compare the best options and see which one best matches you.
From there, it's as easy as filling in a quick form to send along your contact details and applying for you card. Once your application is approved, you'll get your card in the post. Start saving time and money on fuel now.
Read more about fuel cards on iCompario
How to save time and money with fuel cards
Really Simple Fleet Management Advice & Tips For Business
Fleet Management: How to Run an Efficient Commercial Fleet