Fuel Cards
Allstar Fuel Cards
Accepted at over 7,700 UK petrol stations 
Allstar has the network coverage your company needs. Fleet businesses need diesel and petrol to stay on the roads. Allstar fuel cards give you access to 90% of the UK's stations, so your drivers will never be far from the fuel they need to keep their vehicles moving. 
Buy your petrol and diesel at supermarket price. Supermarkets are usually the cheapest source of fuel and Allstar cards can be used at all the UK's major chains. This means your company can get cheap fuel throughout the UK.  
No more paper invoices for your admin team. Logging paper receipts for fuel travel expenses is something you'll no longer need to do with an Allstar card. It creates an electronic record of all your drivers' fuel purchases, saving time for your administrators and money for your business.
Compare Allstar Fuel Card Options
The primary card available from Allstar is the Allstar One Fuel Card.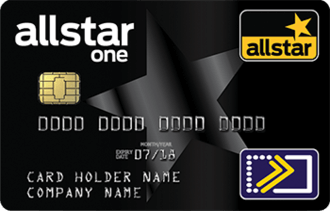 Has UK's the largest fuel card network 

Can be used at supermarket petrol stations 

Creates an HMRC-compliant invoice for your fuel purchases 

24/7 online account management software and reporting tools

Secure cards you can configure to restrict to purchasing specific items
Where can you use Allstar fuel cards?
Network coverage is one of the best features of Allstar fuel cards. 
You can use your card at 90% of the UK's petrol stations, covering local, regional and national areas in England, Wales, Scotland and Northern Ireland. This includes all of the UK's main fuel brands and major supermarkets. 
This makes it ideal for any UK fleet business, as your drivers will always be close to a station that has the diesel and petrol they need for their vehicles. 
Stations in the network: 
It's really simple for your drivers to find the closest garage to get their fuel. All they need to do is use the station locator app (available on Android and iOS) that comes with their Allstar card and they'll be directed to the closest one. 
More efficient journeys:

your drivers will always be near to a petrol station that accepts the Allstar fuel card, meaning they don't need to deviate from their journeys.

Less paperwork for your business:

your travel expenses are recorded electronically, so your admin team doesn't need to redeem paper receipts for diesel and petrol.

Simplified accounts submissions:

you get an HMRC-approved invoice for the fuel your business buys, helping your business to submit accurate accounts to the government and get the tax rebates you're entitled to. 

Control of your fuel costs

: your account management software records every transaction made, so it's quick and easy to see where your business' money is being spent on travel expenses. 

More sustainable way of doing business:

you'll have no more paper receipts for the petrol, diesel, oil and other travel purchases you make, reducing your company's carbon footprint. 
Allstar Fuel Card FAQs
Do Allstar fuel cards work at pay at the pump?
Allstar fuel cards do work at the pump. The cards come with chip and PIN technology, so they can be used to pay for their diesel and petrol at outdoor terminals. 
Can you buy oil with an Allstar card?
You can buy oil with an Allstar card. One of the benefits of using one is that it allows your drivers to purchase non-fuel travel items. This includes oil, AdBlue and some other key items that your drivers need to keep their vehicles on the road.
Can I buy AdBlue with an Allstar fuel card?
You can purchase AdBlue using an Allstar card. To do this you'll need to make sure it's set up so that you're able to purchase all fuels and oils. If you're unsure if your card has been set up in this way then get in touch with your card provider and they'll be able to let you know. 
Need help choosing a fuel card for your business?
Do you know what the best fuel card is for your business? Or do you need to see what your options are? No problem. You can use iCompario's "Compare fuel cards" comparison tool.
All you need to do is enter the key information for your business (the type and number of vehicles you use and the stations you fill up at) and it'll show you all the cards that offer what your business needs. Try it out now.