JetCard Fuel Card
100% independently owned with a local community focus

Start saving with JetCard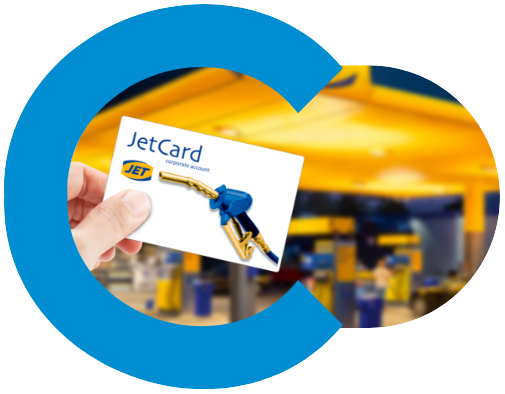 Refill at JET? Get the most out of your local refill station by using your JET fuel card. Use your card at 330 stations across the UK to get high-quality fuel at convenient places. JET has fuel stations across England, Scotland and Wales, and over 60 years of fuel industry experience.
Local fuel stations:
Use your fuel card at over 300 JET stations in the UK
Online account system:
Track how much fuel you're using
Improved admin:
Easily reclaim VAT with HMRC-approved invoices
Our purpose is to save you time and money. We are experts at scouring the market, sourcing the best deals and passing them on to you.
30-second form
Tell us about your business needs, your vehicle types and where you prefer to fill up with fuel.
We filter the offers
We'll then compare fuel cards across the UK, our database of cards cover 95% of UK fuel stations.
Get the perfect fuel card
After our free fuel card comparison, it's time to get your card and start spending on fuel! Simple as that.
Frequently asked questions
The JET card is a great pick for any business who refills at JET and makes local journeys. Here's what you get when you use a JET fuel card:
1. Keep it local
A lot of fuel cards are owned by the biggest brands in the UK. The JET card, though, is unique! JET is the only UK fuel station network that is 100% independently owned. JetCard customers can therefore be assured that they are using a fuel station with a local community focus. JET fuel is provided by its Lincolnshire refinery, leaving you safe in the knowledge that you are providing your vehicle with quality fuel.
2. Monitor your fuel usage
How much fuel do you use? How much do you spend on fuel? Keep track of all your fuel costs using the JET fuel card's online account management system. Here you'll get all the answers you need to make the best financial choices for your business. You can keep an eye on all your fuel usage and costs online.
3. Easily reclaim on VAT
Reclaiming on VAT has never been easier. All you need to do is use your fuel card. You'll get an invoice that puts all your fuel costs in one place on a HMRC-approved invoice.
The JetCard can be used across the full network of JET fuel stations. That's 330 stations in the UK. JET fuel stations are located across England, Scotland and Wales. Want a bigger network? Check out the FleetOne, which can be used at JET and a bunch of other brands too!
Van drivers
Car drivers
Sole traders
Local businesses
If you refill at JET, then a JET card is the natural choice for you. Whether you're driving a van or a car, the JET fuel card offers you an easy local solution for all your fuel needs.
The JetCard can also be used to pay for a car wash and other vehicle-related purchases such as engine oil. Many JET stations also come with Amazon lockers allowing you to collect any purchases at the same time as fuelling your vehicle.