Compare telematics systems for full fleet visibility
Monitor vehicle health, location, CAN & tachograph data
Access customisable dashboards & reports to keep you in control
Get deals in 30 seconds

The right telematics system makes fleet management easy
Manage your fleet better and easier with a good telematics platform. Get clear report screens with all the data you need to make informed decisions. Top-end telematics systems include features like:
Our purpose is to save you time and money. We are experts at scouring the market, sourcing the best deals and passing them on to you.
What to look for when choosing a telematics system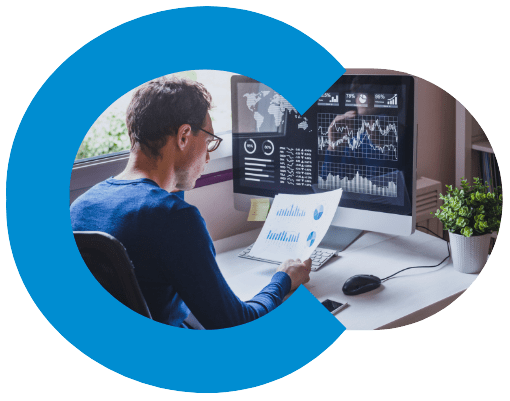 Find telematics systems providers with the widest range of hardware products and brands possible
A provider you can count on for the long haul will keep up with new technology for telematics platforms and offer a range of hardware to meet your needs, no matter how your company evolves.
Look for flexibility, with report screens you can customise
Instead of working around a 'one-size-fits-all' software design, choose a telematics platform with report screens that can be designed around you and your business.
Expert telephone support and training for the telematics system you choose
Look for lifetime hardware warranties, telephone support and good technical after-sales care. Training should be offered if you need it.
About your business
You tell us about your fleet, your business and the type of telematics platforms you need.
The best offers
We compare your needs with the products available and get quotes on the best matches.
Start tracking your fleet
Then we check your details and pass you over to the relevant company to get you started.
Frequently Asked Questions
Telematics systems can provide detailed data that you can turn into business insights and use to improve productivity. They use GPS technology to collect data. For that, they use the GPS satellite that transmits the data to the telematics device fitted onto the vehicle. The information is then transmitted over a wireless cellular connection or satellite communications to the telematics provider. The provider manages the communication between the vehicle and the cloud. You can then see the data in real-time on your computer by accessing the cloud using an internet connection.
Part of telematics platforms, an accelerometer is a device that will also send data that the vehicle tracking can use to identify possible collisions as well as rapid acceleration, rapid cornering and sudden braking, all of which demonstrate careless handling of the vehicle which increases risk of accidents, wear and tear and waste of fuel.
Some telematics systems gather the data through the on-board diagnostics port (OBD-11), while others are connected to the CAN bus getting the data through it. The latter is usually more reliable.
Telematics systems are a technology used to monitor anything from individual vehicles to an entire fleet. They provide a wide range of accurate data, including vehicle location and activity, vehicle diagnostics, asset tracking, driver behaviour, tachograph data, temperature monitoring, and more. You can visualise all this data on a telematics software platform and use it to manage your resources better, increase productivity and keep customers satisfied.
A vehicle telematics system consists of tracking devices installed in the vehicle that allow the transmission of data through the vehicle's onboard modem and diagnostics (ODBII) or through the CAN bus using wireless networks.
There's a wide range of reports that a telematics system can generate, all being of high value to the user.
Telematics systems capture data including vehicle location, geofencing, vehicle speed, acceleration, harsh braking and cornering, vehicle diagnostics, job dispatch.
You can use all this data included in reports to:
Improve customer service. You can tell exact ETAs to your customers. Knowing your vehicles' location, you can decide which vehicle to dispatch to a job.
Lower fuel and maintenance costs. Being able to rely on vehicle diagnostic reports and analyse your drivers' driving style will save you a lot on fuel and maintenance in the long run.
Lower administrative costs. Digital tachograph data and automated mileage expense reports are part of a good telematics system and a great tool to simplify admin and compliance.

Telematics andvehicle tracking are fundamentally the same thing. Most people use the term vehicle tracking, or vehicle tracker, to describe the more basic end of the product range, and telematics for systems with more complex functionality. With no widely accepted definitions, people tend to decide for themselves where exactly to draw the line between which software platforms to call telematics and which to call vehicle tracking and many people use the two words interchangeably.
All systems use transmitting devices fitted in vehicles (or moving assets like trailers) and software that interprets the signal into useful information which is presented to them in an app or browser.
The term "vehicle tracking" usually refers to a GPS vehicle tracker which may also have an accelerometer, which can give more accurate data on the speed of the vehicle. These systems may also support data from a dash cam.
The word "telematics" is more often used to describe the more sophisticated platforms which can also process and display data from multi-channel cameras, and devices which can connect to the CAN bus for vehicle diagnostics and precise data from the fuel feed, rev counter and almost anything else.
Driver monitoring or  in-vehicle monitoring systems (IVMS)  are a function of telematics systems that track how carefully a driver handles the vehicle. This is an area where the industry is investing in research, so rapid technological advances are likely in the future.
The system may film the driver to check his attention levels, using AI to check for a wandering gaze or the frequency of his blinking, which can indicate tiredness.
An older and currently more reliable form of driver monitoring may record the frequency of over-revving, harsh braking and sudden cornering. These habits, and others, increase wear and tear on parts of the engine, brakes, and drive train and they can waste fuel – in an HGV the costs mount up alarmingly. Using a good telematics platform, a manager can identify these habits, see data on exactly how much fuel each habit wastes, and save money by putting a stop to them.
A hardware device connected to the vehicle's CAN bus or Engine Control Unit (ECU) can detect information on how the vehicle is being driven and handled. This is one of the elements of driver monitoring using telematics systems. The data is transmitted via a SIM card to a cloud-based telematics platform. The fleet manager can then view it from any internet-connected PC.
Another type of driver monitoring uses cameras. A dual camera is a tube with a camera at either end, one looking at the road and transmitting footage of the driver's eye view whilst the other camera looks at the driver and monitors his behaviour. This might be his or her eyes drifting away from the road or other signs of tiredness, or behaviours known to cause distracted driving including smoking or using a phone. Some cameras can also record sound and capture conversations.
For example, data from the rev counter can be correlated with the vehicle speed, which can highlight a tendency to over-rev and therefore damage the engine as well as wasting fuel. Other types of data include harsh braking, and other habits that waste fuel or increase wear and tear on specific components of the vehicle.
Newer technology uses artificial intelligence in driver monitoring. One example is software continuously analysing the driver's face to detect the signs of drowsy driving and thus protect the driver and others from possible risk.
Dashboard cameras  can be installed in vehicles, as part of a telematics system, and record what the driver sees. They are hard-wired to the vehicle.
Telematics cameras  for driver monitoring are connected to a device that live streams their footage to a telematics platform, where the manager can see it using an internet-connected computer or, with some platforms, a mobile device. They will send an alert and footage from the camera if the driver applies the brakes very suddenly, or if the vehicle stops abruptly which suggests there has been an impact. The video footage shows the fleet manager exactly what happened and can also be used as evidence if there are insurance claims or disputes about whose fault the crash was.
Types of vehicle camera to increase safety are installed with a screen in the cab for a driver. They work as an alternative to mirrors and can be a lot more useful if, say, a driver of an HGV is reversing and can see three different views around the vehicle at the same time: he or she can watch three images on a screen in his cab, whereas he could not watch three different mirrors at ones, located in different spots on either side of the vehicle. Cameras can also show the view directly behind a large vehicle, which it is impossible to show using mirrors.
The newest use of driver-monitoring cameras combine safety with driver monitoring. They can be installed inside the cab to keep the driver on camera. The most sophisticated types of in-vehicle telematics cameras use facial recognition technology. They trigger alerts if the driver is drowsy, which is shown by longer times spent blinking and other indications around the eyes, or by not looking at the road ahead but getting distracted and looking elsewhere. These cameras are part of a telematics system are and are used in vehicles carrying explosive chemicals, for example, where the consequences of having a crash could be catastrophic. Simpler versions of these in-vehicle camera systems can be used as evidence to show if the driver is wearing a seat belt, using a mobile phone, smoking or doing other things that could jeopardise safety.
The CAN bus of a vehicle is also known as the Engine Control Unit (ECU). This is essentially the "brain" of the vehicle which consists of all the electronic circuitry that nowadays controls and monitors most important parts of the vehicle, ranging from the engine and fuel gauge to the door locks and window positions.
CAN data can be tapped by telematics systems to transmit all this information to a software platform remotely. A fleet manager can then see all the CAN bus data on a screen to get remote vehicle diagnostics. This can include, for example, the fuel usage as measured through the flow meter and the miles per gallon of a vehicle. It can show if the vehicle has developed a fault or broken down, and check how the vehicle is being driven - for example, if the driver is over-revving the engine.
A tachograph is used in goods and passenger vehicles that weigh more than 3.5 tonnes for checking that drivers and employers follow the rules on  drivers' working hours. Drivers are not allowed to work shifts longer than a set number of hours or work continuously without prescribed breaks.
Information from digital tachographs is saved on smart cards so it can be checked later. From some tachograph systems, it can be checked remotely. Since the information is used for proving that companies and drivers have obeyed the law, the tachograph data or "tacho" output is read by an independent agency, not by the owner of the vehicle.
There are different types of tachograph card for drivers and haulage companies. Driver cards are used by drivers to record driving, rest and activity information. Control cards are used by law enforcement agencies to retrieve data from the tachograph.
To use a tachograph, the driver inserts his "digi card" card into the reader, and the tachograph records details of all that happens to the vehicle.
The vehicle unit of a tachograph is installed in the driver's area of the cabin and displays specific tachograph symbols , and there is also a motion or speed sensor on the gearbox. The vehicle unit collects signals from the speed sensor, and records the following data: date, vehicle speed, single or co-driver, number of times a driver card is inserted each day, distance travelled by the driver, driver activity (driving, rest, breaks and other activities) and the date and time of each activity change, events such as speeding, driving without a driver card and attempts to tamper with the tachograph, and details of tachograph calibrations.
The data is regularly checked to make sure that the driving times and driver's breaks comply with the hours prescribed for safety by EU and UK law.