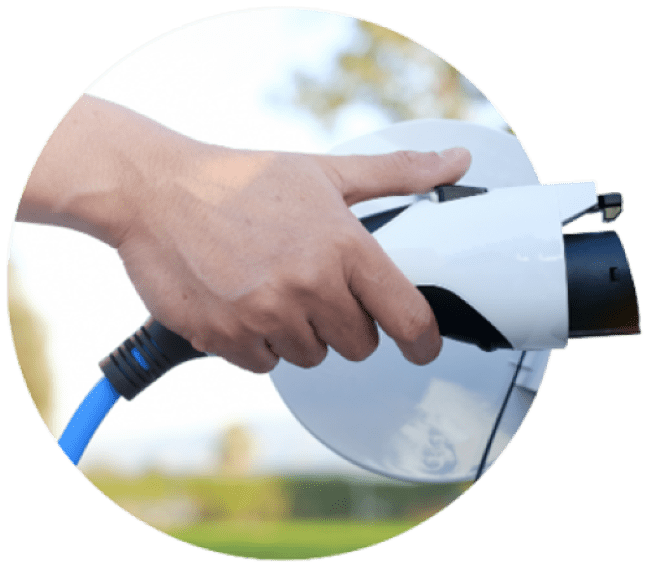 Compare home EV charging points for your employees
Find providers to install charging points at your employees' homes
Charge company vehicles outside of work hours to avoid downtime
Get deals in 30 seconds

Why should you get your employees a home EV charging point?
Charging up at home is more convenient for employees using company vehicles. Instead of having to drive around for public charging points, employees can simply recharge their company vehicle at home whenever they'd like.
Pay cheaper energy rates: charging company vehicles at home means your business can cover those costs from a lower business tariff.
Employees with solar panels installed at home can connect their EV charging points to the panels.
Fleet management software helps you monitor your company vehicle's energy usage
Our purpose is to save you time and money. We are the experts at scouring the market, sourcing the best deals and passing them on to you.
How do Home EV charging points work?
Home charging points can be installed anywhere your employee has off-road parking, like their garage or driveway if they can get power to it. An average home EV charging point can charge at around 7 kWh. Some smart EV charging points can even be connected to the home's solar panel system.
Smart EV chargers can connect to your Wi-Fi or Bluetooth and come with an app for extra convenience. You're in full control of your EV charger and can even set the time you'd like to charge up. That means you're never going to be using too much electric when you're watching the telly and charging at the same time.
You'll also need to decide if you'd like a tethered or untethered point. Tethered charging points have the cable built in, kind of like your hose pipe at home. If you'd prefer to keep your cable separately, get an untethered charging point. You have to use your own cable and reconnect it to the socket when you want to recharge.
How do fuel payments work with home EV points?
Every month, statements are generated to show you all the charging point interactions and the cost. You can even set up the EV charging points to your company's payroll system to automatically cover the costs of electricity for employees. On some smart EV systems, you can split up business and personal use so your company only pays for business use.
Your home EV charging point can be set up with a card, so only your employee can use it.
How do I get charging points installed at my employees home?
Ready to get ahead of the curve? All you have to do is choose an installer and find the best home EV charging point for you. We make it easy. Complete a quick survey and we'll find the best match to fit your needs.
30 second form
Let us know some details about your vehicle and EV charging needs, so we can find the best fit for you.
We filter the offers
We dive into a wide range of home EV charging solutions to find the best one for your company.
Start charging your EVs
We'll match you with the perfect provider, so you can start installing at your home quickly.
Frequently asked questions
Unless you want to spend days waiting for your electric vehicle to charge from a regular wall socket at home, you'll need to install a charge point. Home EV charging points can go in any off road parking space, like your garage or in your driveway if you can get power to it.
You can complete a quick survey to decide which EV is right for you, based on your charging needs, parking space, budget, electricity available, etc. From there, the installer will get in touch and help you get the best home EV charging point.
An EV smart charging point can be used with an app on your phone to monitor your energy usage and set charging times. You can set your vehicle to charge up at night and stop charging when its battery is full.
The cost varies depending on the type of charging point and your chosen provider. A basic charge point is wall-mounted and is the cheapest to buy. They're also straightforward to install, but smart chargers come with extra benefits. A 7-kWh charger will be cheaper than a 22-kWh charger but isn't as quick. Luckily, helping the environment soon reaps its rewards. While the upfront cost of installation isn't small, it's soon paid back by the added benefits and savings of having an EV. To start pricing up your installation, compare charge points.
Most home charging points use your smartphone instead of a card. Having a card does come with some benefits, especially for workplace charging points and for those charging in public. Read more about EV cards.