Esso National Fuel Card
You'll never be far from a place to fill up with access to 1 in 4 fuel stations in the UK

Start saving with Esso National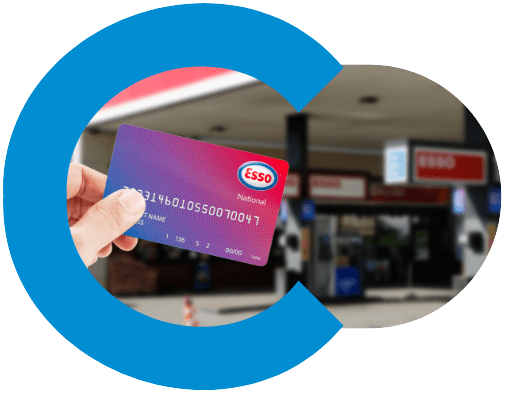 Driving across the UK? The Esso National card gets you access to one of the biggest networks in the country, including BP and Shell partner stations. If you want coverage across the UK and fuel prices to suit you, the Esso national card is a great choice. As an added benefit, this fuel card comes with HMRC-approved invoices to simplify your VAT reclaims.
Large UK network
Refill at over 3,400 stations across the UK
A card that suits you
Choose from fixed weekly prices or pump prices
Make your admin easy
Reclaim VAT with HMRC-approved invoices
Our purpose is to save you time and money. We are experts at scouring the market, sourcing the best deals and passing them on to you.
30-second form
Tell us about your business needs, your vehicle types and where you prefer to fill up with fuel.
We filter the offers
We'll then compare fuel cards across the UK, our database of cards cover 95% of UK fuel stations.
Get the perfect fuel card
After our free fuel card comparison, it's time to get your card and start spending on fuel! Simple as that.
Frequently asked questions
We recommend the Esso National card for all businesses and sole traders who need to refill across the UK. Here's what you get when you use your Esso card:
1. Prices to suit you
Many fuel cards on the market are either fixed-price or pump price. With fixed prices, you get a weekly report that lets you know how much you'll pay for fuel based on wholesale oil prices. Pump prices give you a guaranteed saving every time you refill at the pump. Often, when you get a fuel card, you don't have much choice! But the Esso National card can either be fixed or pump priced, so you can choose what works best for your business.
2. One of the best networks in the UK
Very few fuel cards can match the sheer network size of the Esso National. With over 3,400 stations in the UK, you can easily find a station to refill wherever you are. With an Esso National card, you can refill at 25% of fuel stations in the UK.
3. Track fuel costs
Whether you're a sole trader or a fleet manager, it's great to know exactly how much fuel you're using. The Esso National fuel card comes with an online account management portal, so you can keep an eye on your costs.
4. Easily reclaim VAT
One of the best parts about having an Esso National card is the invoices. No, really. You'll get an invoice for your fuel costs every month. These invoices are HMRC-approved, so you don't have to spend tons of time on admin.
Your Esso National card can be used in the UK at over 3,400 stations. This includes over 1,200 Esso stations and their big partner network. Partner stations include all BP and Shell stations.
Car fleets
Van fleets
Sole traders in the UK
Driving in the UK? The Esso National fuel card has one of the biggest networks and flexible pricing options. That makes this card a great fit for tons of business types.
Driving in Europe? Try the Esso Europe card and use your fuel card at over 14,000 stations across Europe.
You can use your Esso National card to buy petrol and diesel, plus premium fuels, gas oil, and AdBlue.