Fuel Cards
Esso Fuel Cards
Exceptional coverage throughout the UK and Europe 
Esso has invested for years in developing its scientifically improved Synergy diesel that cleans engines while they are being used. You can buy two different types with an Esso fuel card. They claim that "the molecules in our regular Synergy diesel… have been specially designed to help clean vital parts of your engine" and that your fuel economy can improve by 1.8%. The supreme+ version has even greater cleaning power to make your engine last longer.
Each Esso card comes with online tools, billing options and personalised account management. Your drivers can also use Esso cards all over the UK and across Europe, making it an ideal choice for local, regional, national and international businesses.
Esso has one of the largest networks of service stations in the UK and has provided businesses with the fuel they need for over 100 years. It's one of the most trusted petrol and diesel brands in the world, making it a smart pick for any company looking to improve their operations by using fuel cards.
Esso fuel cards through iCompario
Compare Esso Fuel Card Options
Esso offers two excellent fuel cards — National and Europe.
Esso National Fuel Card
Detailed transaction reports for your company's travel expenses 

Your drivers can earn Esso Nectar points which can be used at UK retailers

Can be used to pay for motor oil, vehicle lubricants and AdBlue

You can use the card to pay for car washes at over 800 petrol stations
Esso Europe Fuel Card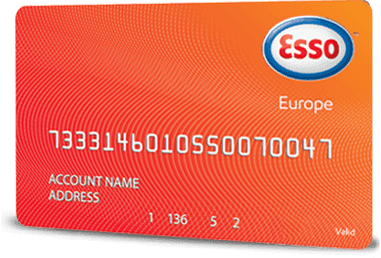 Outstanding coverage throughout the UK and Europe 

Online tools that help you to monitor vehicle and driver fuel performance

Your own account manager and a dedicated support team 

Straightforward billing that lets you choose weekly or monthly payments 

Station locator that tells your drivers where the nearest petrol station is
Where can you use Esso fuel cards?
Esso has one of the best network coverages of any UK fuel card. 
You might be asking yourself "where can I use an Esso fuel card"?
Well, you can use your National or Europe card in a huge number of petrol stations, spanning the whole of the UK and the key parts of mainland Europe. 
This makes it ideal for local, regional, national and international businesses. These are the Esso fuel card stations you gain access to with your card: 
Over 12,000 national petrol stations

Over 7,000 24-hour service stations 

Over 4,000 HGV garages 

Over 700 motorway stations
Esso Fuel Card Benefits 
Efficient petrol and diesel: discounts on Supreme and Synergy fuel at Esso stations

Account management: you save time on administrative and accounting tasks

Fuel monitoring: your company benefits from simple fleet and fuel usage tracking

Correct tax rebates: your finance team can submit accurate accounts to HMRC 

Toll charge payment: your drivers will feel less stressed about paying motorway fees 
Esso Fuel Card FAQs
Where can I use an Esso fuel card?
Esso fuel cards are accepted at over 12,000 UK petrol stations, covering England, Scotland, Wales and Northern Ireland. These include motorway service stations and local garages, meaning you're never far from a pump where you can use an Esso fuel card. 
How does an Esso fuel card work?
Esso fuel cards work as a cash flow management tool. Your drivers fill up their vehicles at the pump then present their card to the cashier for payment. Your company then receives an invoice from Esso (on either a weekly or monthly basis) and your accounts team pays for the fuel your drivers bought. 
Does Tesco use Esso fuel?
Like many of the major supermarkets (such as Asda) Tesco sells its own fuel. This means that Tesco doesn't use Esso fuel. However, Tesco does have a partnership with Esso. This means that your drivers can collect Clubcard points and submit Clubcard vouchers at around 200 Esso stations. 
Need help choosing an Esso fuel card?
It couldn't be easier to apply for one of Esso's two fuel cards with iCompario. 
To see how Esso's cards compare to the others available from iCompario you can use our "Quick fuel card compare tool" below. You just need to enter the number and type of vehicles and type of stations your company uses and it will give you a list of the best fuel cards available for your specific needs.