Esso Fuel Cards: Compare for Your Business
Cards available for use in the UK and across Europe
Save money with fixed pricing or discounts at the pumps
Get deals in 30 seconds and order online

Get discounts with your Esso fuel card
Esso has a large total of over 1,200 stations in the UK. But that's not all. With partner stations included, you could use your Esso card at over 3,400 stations in the UK. Many of these stations can offer your business competitive prices, including guaranteed discounts on pump prices.
For drivers across Europe, Esso cards are also a fantastic money-saving option. Discount pump prices are available at thousands of stations across 21 European countries. To get your discounts, get the right type of card for your business.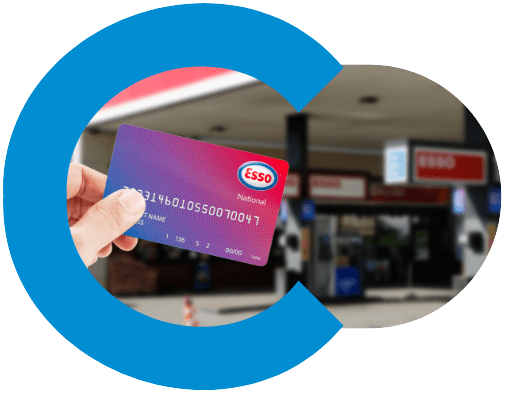 What types of Esso fuel cards are there?
Esso offers two excellent fuel cards – the National and Europe. In short, the National card is only for UK use while you can use the European card throughout the continent.
But which Esso fuel card is the one for you?
Looking for a fuel card for high-quality fuel and stations across the UK? An Esso card might be just what your business needs.
Esso fuel cards grant you access to easy online account management tools, one of the biggest station networks in the UK and Synergy diesel. We break down the details below to help you discover which one works best for your business.
Where can you use it?
You can use your Esso National fuel card at 3,400 stations throughout the UK. That includes Esso's 1,200 station network, plus their partners Shell and BP.
You'll have no trouble making use of your Esso card wherever you are in the UK. Very, very few fuel cards can get you the same network coverage and benefits.
Benefits of the Esso National
This card is widely accepted throughout the UK and offers businesses many benefits to aid cutting down on fuel costs and managing a business.
The National is suitable for many types, including sole traders and fleets of vans and cars. The top advantages of this card are:
Accepted at an extensive UK network
Get exclusive, competitive prices
Esso Nectar club card points
Buy high- quality Esso synergy fuel
Fuel reports online to monitor costs
Pricing options
The pricing options for this card are weekly fixed prices or discounts at the pump. Both options have their advantages! Weekly fixed prices are preferred for businesses to control the budget, access potentially low prices and avoid local price hikes. Fleets and heavy diesel users are likely to prefer this option.
Other types of businesses, such as smaller businesses, sole traders and those getting employee fuel cards are likely to prefer discount pump prices. These give a small but guaranteed discount on prices displayed at the pump. The more fuel you get with your card, the more you'll save.
Where can you use it?
The Esso Europe card has a massive network throughout Europe. You can make use of your fuel card at over 12,000 stations across 21 countries. Get your card ready at the toll roads – you can use it for toll charges too. For businesses driving across Europe, the Esso Europe card is an ideal choice.
Benefits of the Esso Europe
Esso Europe is suitable for businesses operating across Europe and most vehicle types, including cars, vans and HGVs. The best benefits of this card are:
Zero minimum spending requirements
Accepted in 21 countries in Europe
Invoices every week online
Buy fuel on credit and pay later
Use to pay for toll charges and Eurovignettes
Pricing options
This fuel card is only available with discounts at the pump. These discounts are guaranteed on all displayed pump prices at accepted stations.
The discounts are generally small reductions off the cost of a litre. They might be small, but it can still save your business a significant amount over time. especially if you use a large amount of fuel.
Why choose an Esso fuel card?
Both fuel cards are definitely worth considering for businesses in the UK and Europe. The network coverage isn't the only good part of these fuel cards, though. They come with a bunch of benefits.
Why consider an Esso fuel card over other brands? These benefits might just give Esso the winning edge for your business: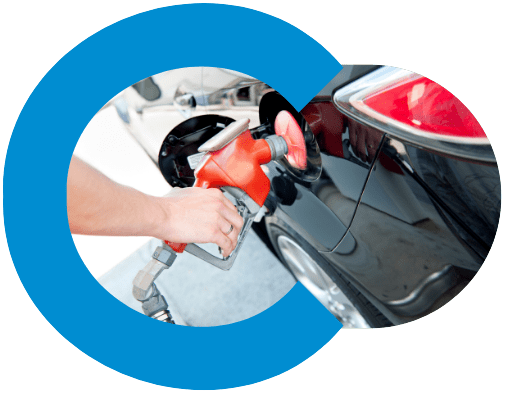 Synergy Supreme Fuel
Want more efficient diesel and petrol? This fuel blend helps to clean your engine to help keep things running smoothly and efficiently.
Esso's Synergy Supreme diesel also has double the amount of detergent to help your vehicle run at its best.
Top benefits of Esso cards
Competitive pricing on Synergy Supreme fuel at Esso stations
Save time on admin and accounting with an online
Correct tax rebate to get weekly invoices and send details to HMRC
Pay toll charges with your fuel card
Collect Nectar points, plus Tesco Clubcard points at Tesco partner stations
How can I get an Esso fuel card?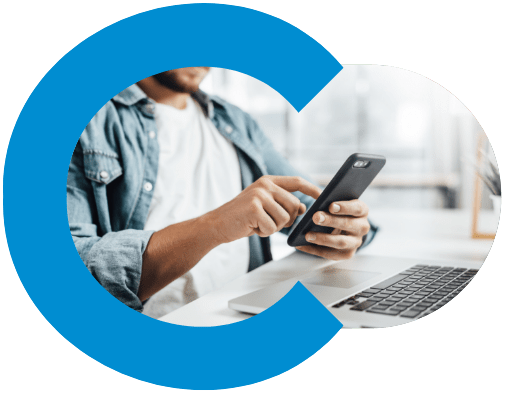 To get a fuel card, compare and see which ones meet your business needs to best. Choose from our top recommendations. Select your card, then start your application. Fill in a quick form with your business details.
After submitting your application, we send your details to the card provider you've selected. The provider completes a credit check. Once your application has been approved, you receive you cards in the post.
Why use iCompario for your Esso fuel card?
Finding the right fuel card is a tough process. But we can make things easy. With iCompario you can compare the fuel cards that best fit your business needs.
30 second form
Tell us about your business needs, your vehicle types and where you prefer to fill up with fuel.
We filter the offers
We'll then compare fuel cards across the UK. Our database of cards covers 95% of UK fuel stations.
Start saving on fuel
After our free fuel card comparison, it's time to get your card and start saving on fuel! Simple as that.
Frequently Asked Questions
Esso cards are fuel cards from one of the major brands in the UK. Fuel cards are a payment method your business can use to pay for petrol and diesel.
With an Esso fuel card, you get weekly invoices to ease up your cash flow management and admin process. Once the invoice is ready, you then pay for the fuel.
You can use your Esso card to pay for petrol and diesel at all Esso stations and partner locations. With your card, you can also buy:
Esso's premium fuels
Car washes at over 800 UK petrol stations
Vehicle lubricants
Here's one extra benefit. You collect Esso Nectar reward points with each refill and purchase at their stations. You can then use those reward points for extra fuel discounts or to go shopping at major brands.
At certain stations with a Tesco Express, you can also collect Tesco Clubcard points for extra bonuses.
Esso has one of the best network coverages of any UK fuel card. An Esso card is a great choice for local, regional, national and even international businesses.
But what are the exact numbers? These are the Esso fuel card stations you gain access to with your card:
Over 12,000 petrol stations
Over 7,000
24-hour service stations
Over 4,000 HGV garages
Over 700 motorway services
Your drivers fill up at the pump, then show their card to the cashier to pay. Your business then gets a regular weekly or monthly invoice to pay for the fuel your company drivers have bought.
Esso cards also come with an online account management system, so you can keep an eye on your fleet's fuel usage and know exactly how much you're spending. Read more about how to use your fuel card.
Like many major supermarkets (such as Asda), Tesco sells its own fuel. This means that Tesco doesn't use Esso fuel.
However, Tesco does have a partnership with Esso. Your drivers can collect Clubcard points and submit Clubcard vouchers at around 200 Esso stations.
You get around 1 Tesco Clubcard point when you spend £3 on Esso fuel. Plus, you get 1 point for every £1 in Tesco shops at Esso partner locations.
If your drivers already stop and shop at Tesco, they'll be happy to enjoy this added benefit of an Esso fuel card. Read more about fuel card loyalty rewards.
You'll have to be a registered business to apply for a card, but sole traders can get a fuel card too.
While fuel cards are really for business use, by collecting Esso Nectar and Tesco Clubcard points you could make some personal use out of these cards if you wanted to.
Need help choosing an Esso fuel card?
Ready to get your Esso card right now? Or maybe you want to weigh up your options. Find out how Esso fuel cards compare to other cards with our easy comparison tool. Simply enter in your basic business details and we'll take care of the rest.
Compare cards for other top fuel stations