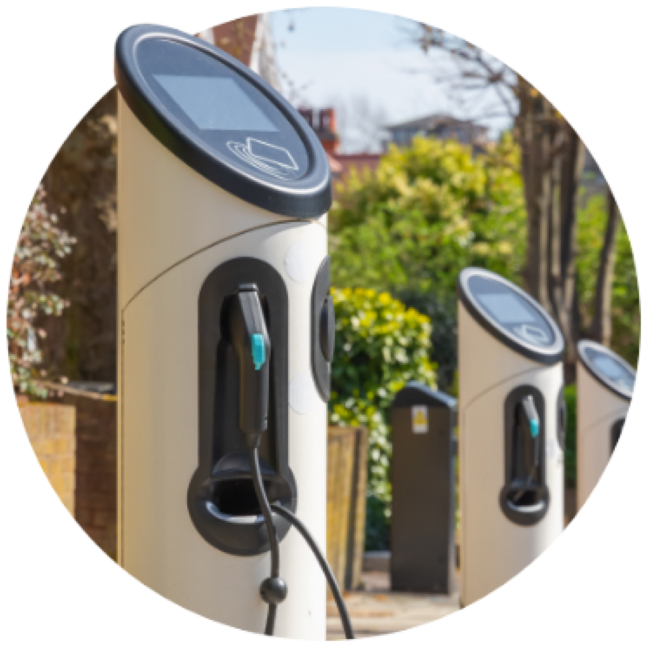 Commercial EV Chargers: Compare the Best Charging Point Deals
Find providers and install charge points for customer use
Monetise your charging stations
Get deals in 30 seconds

Earn extra revenue with commercial EV chargers in the UK
Install business charging points around your premises for customers to use. You'll benefit in many ways, ranging from extra money to retaining more loyal shoppers:
Extra revenue: Set the rate for customers looking to charger their EVs, earning you a profit incrementally over weeks, months and years.
Attract EV users: Get EV users flocking to your premises to shop while charging, so you're primed to earn from their shopping.
Retain more customers: By offering charging stations, you make yourself EV-friendly and are sure to gain more loyal electric vehicle users looking to shop.
Future-proof your business: Prepare for the future by transitioning to EVs. Make the jump now ahead of sweeping industry change to beat the competition.
Our purpose is to save you time and money. We are the experts at scouring the market, sourcing the best deals and passing them on to you.
Which commercial EV charging station is right for your business?
There are two types of business EV chargers to think about installing. You should consider them based on your business type and the needs of your customers.
Faster chargers
Ideal for shopping centres, car parks, businesses close to office spaces and those with a longer stay-time of a few hours. If that's you, then you should install an EV charging point of 7+ kWh to maximise charging.
Shoppers can then wander around your business and shop while waiting for their EV to charge up.
Rapid chargers
These are best for motorway service stations and businesses with a shorter dwell time. That's because rapid EV stations charging electric vehicles are around 22 kWh.
These still let you attract new footfall without ever being inconvenient for your customers to use.
Commercial EV charging station costs in the UK
Commercial EV charger installation costs depend on the EV station you choose. You can expect a cost of under £1,000 for the 7 kWh charging points.
Remember, commercial EV charging station costs in the UK are reduced over time as you earn income from your investment. You will get ROI for your purchase—it just may take a quarter or two.
Save money with the Workplace Charging Scheme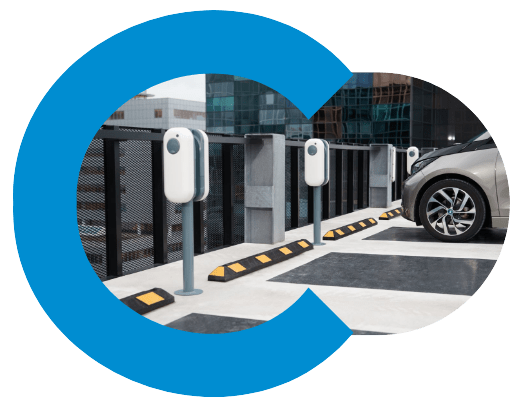 Remember, there's UK government support to help your business transition to electric vehicles. You can apply through the Office for Zero Emission Vehicles (OZEV) Workplace Charging Scheme.
The initiative offers a grant of £350 for each charging station (up to 40) installed at your business, including stations for customer use.
You need to be eligible to apply, including being a registered business, charity or public sector organisation. You'll also need to have dedicated parking facilities linked to your premises.
You can start the process by comparing charge points and starting your application.
30 second form
Let us know some details about your business and EV charging needs, so we can find the best fit for you.
We filter the offers
We dive into a wide range of Workplace EV charging solutions to find the best one for your company.
Start charging your EVs
We'll match you with the perfect provider, so you can start installing EV stations at your business quickly.
Frequently asked questions
Yes. After a few years, your EV charging points can pay for themselves and then some. It does depend on how many you install, the customers and how many EV stations you have. There are different types of EV stations for every commercial need:
Profit: EV charging stations built to make a profit have a fee for customers. Your business sets the fee to help regain the costs of installation and begin making a profit.
Loss leader: These stations are rare but are suitable for a few business types. These stations are free for the public to use and are simply built to attract customers.
Advertising stations: Some EV charging points come with a built-in screen, so you can sell the advertising space.
You can learn more about this on our guide to electric vehicle charging costs.
If there are no EV charging points close to your business, you may be in the ideal position to install some. But even if your nearest charging point is close, you can still benefit from having your own stations.
Most businesses with off-road parking space can consider EV charging points, especially as petrol and diesel vehicles are being phased out. Your business' goals, and industry, will decide the type of EV station you should consider installing.
You connect them to your electricity supply. Once they're installed and ready to go, you can set your usage fee for customers. Shoppers can then plug in their vehicles, leave their vehicle to charge and pay the fee when they're finished.
Plus, your business can gather data on your EV customers.
You can see how long your EV drivers are staying, their energy usage and the amount of profit you're making from their stay through an EV smart system. These do cost a little more to install but are worth it for the added data insights.
Any business with off-road parking space can have commercial EV charger installation. Meeting the OLEV Workplace Charging Scheme requirements has some extra steps, so it's worth keeping those in mind and double-checking your eligibility.