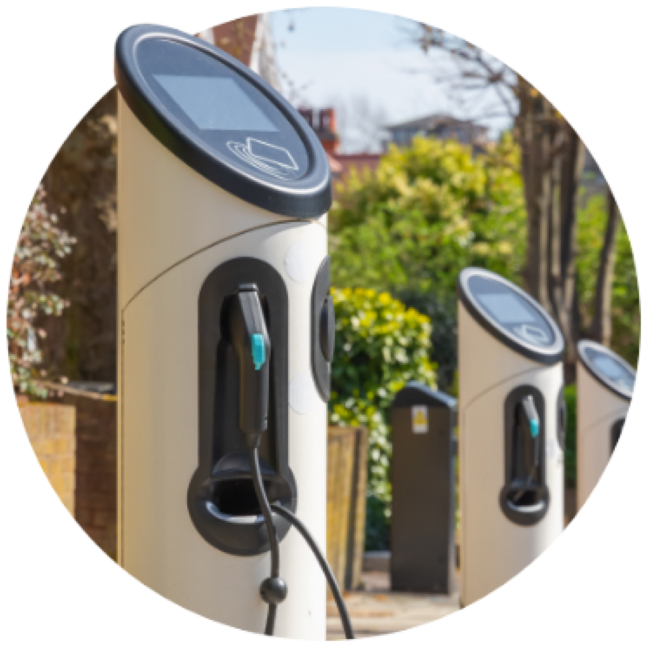 Compare commercial EV charging solutions for your business
Find providers to install charge points for your customers to use
Gain extra revenue with the option to monetise your EV charging stations
Get deals in 30 seconds

Why you should install Commercial EV charging stations in your business
Extra revenue: You can charge the public to use your stations. You get to set the rate so EV stations can pay for themselves.
Cut CO2 emissions: Want to go green? Giving your employees and customers a place to recharge reduces your carbon footprint.
Attract EV drivers: With EV stations, you can increase your number of visitors and gain a relationship with typically higher-income customers by giving them a place to recharge.
Prepare for the future: As the UK government is banning the sale of all new petrol and diesel cars from 2030, businesses are taking a step ahead and preparing for the future of EVs.
Our purpose is to save you time and money. We are the experts at scouring the market, sourcing the best deals and passing them on to you.
What are the costs of installing commercial EV charging stations?
It depends on the type of EV station you're installing, but you should expect a cost of under £1,000 for the 7 kWh charging points. But government support is there to help businesses shift to greener energy. The OZEV Workplace Charging Scheme is a grant of £350 for each charging station (up to 40) installed at your business, including stations for customer use.
Which Commercial EV charger is right for my business?
Fast chargers
Shopping centres, car parks, businesses close to office spaces and in general those with a longer stay-time of a few hours should install an EV charging point of 7+ kWh. Your customers can wander your business and shop while waiting for their EV to charge.
Rapid chargers
Motorway services and businesses with a shorter dwell time will want to look for rapid EV stations of around 22 kWh. These still let you attract new footfall without being inconvenient for your customers to use.
30 second form
Let us know some details about your business and EV charging needs, so we can find the best fit for you.
We filter the offers
We dive into a wide range of Workplace EV charging solutions to find the best one for your company.
Start charging your EVs
We'll match you with the perfect provider, so you can start installing EV stations at your business quickly.
Frequently asked questions
Yes. After a few years, your EV charging points can pay for themselves and then some. It does depend on how many you install, the customers and how many EV stations you have. There are different types of EV stations for every commercial need:
Profit: EV charging stations built to make a profit have a fee for customers. Your business sets the fee to help regain the costs of installation and begin making a profit.
Loss leader: These stations are rare but are suitable for a few business types. These stations are free for the public to use and are simply built to attract customers.
Advertising stations: Some EV charging points come with a built-in screen, so you can sell the advertising space.
If there are no EV charging points close to your business, you may be in the ideal position to install some. But even if your nearest charging point is close, your business can benefit from having your own stations as well. Most businesses with off-road parking space should really consider EV charging points, especially as petrol and diesel are being phased out.
Your business type will decide the type of EV station you need.
Your commercial EV stations connect to your electricity supply. Once they're installed and ready to go, you can set your usage fee. Customers then plug in their vehicles, leave their vehicle to charge and pay the fee.
Plus, your business can gather data on your EV customers. You'll can see how long your EV drivers are staying, their energy usage and the amount of profit you've made from their stay through an EV smart system. Smart EVs do cost a little more to install but are absolutely worth it for the added benefits for businesses.
Any business with off-road parking space can install EV stations. Meeting the OLEV Workplace Charging Scheme requirements has some extra steps, so it's worth keeping those in mind and double-checking your eligibility.
When you use an OLEV-approved installer, your EV stations have a 3-year warranty. EV stations do require regular maintenance to keep everything in tiptop shape. Inspections can include everything from checking the brightness of the smart screen display to looking for signs of corrosion. But this does depend on the type of EV station you have installed. Your EV charging station installer can help to give you more guidance.