Compare HGV tracking systems for your business
Keep track of your HGV's location, MPG, driving styles & more
Use data to save on fuel, insurance & motor repairs
Get deals in 30 seconds

Our purpose is to save you time and money. We are experts at scouring the market, sourcing the best deals and passing them on to you.
HGV trackers keep your business on course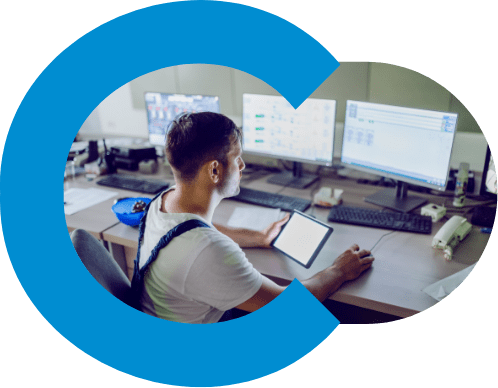 HGV tracking systems help to manage your business in a more hassle-free way. You get all the data you need on your trucks in one place, in real time and easily accessible from any internet-connected device. You are in full control to locate your trucks at any time, optimise your routes, save fuel and boost efficiency. Maybe you have one truck or you're managing an entire fleet? Either way, HGV tracking systems will help you stay in control of your trucks.
Why you should use an HGV tracker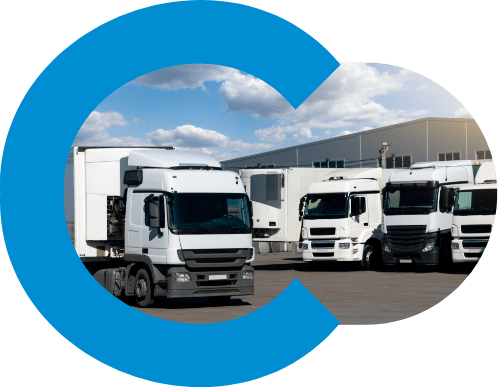 Increase safety and security
Safety and security are a concerning topic for HGV and lorry fleet managers, as well as for drivers. Always know where your trucks are and whether your drivers are safe. You get real time live data so you can alert the police the moment anything suspicious happens.
Start saving with HGV trackers
Fuel is a huge expense for trucks and HGVs. Using truck tracking systems, you can identify the areas where you can cut costs. Analyse data and driving styles and see what costs you the most fuel. Also, keeping an eye on your driver's driving style can help you save on maintenance and repairs.
Keep customers satisfied
With HGV tracking devices you have complete visibility into your trucks' activity at any time, at your fingertips. Knowing the exact location and ETAs of your trucks at any moment, you can give customers live updates on their deliveries and reassure them that they are dealing with professionals.
About your business
You tell us about your HGVs, your business and the data you need from your tracking.
The best offers
We compare your needs with the products available and get quotes on the best matches.
Start tracking your trucks
Then we check your details and pass you over to the relevant company to get you started.
Frequently Asked Questions
There are two types of GPS tracking devices you can install on a truck, each with their pros and cons. It's important to know the differences between them and make an informed choice that suits your business needs.
Self-install HGV trackers are the cheaper option. They are simple to install and are powered automatically, without driver involvement. However, they don't provide driver performance reports. Being that easy to install, they're also easy to remove.
Hard-wired devices are the better lorry tracking option. They are installed by professionals, so they cannot be easily removed and tampered with. You get detailed reports based on which you can analyse the driving habits that cause wear and tear, waste fuel and increase the risk of accidents. Hard-wired truck trackers are slightly more expensive because they need to be installed by an engineer, but offer increased reliability.
When you hear HGV tracking, you're thinking GPS, location tracking. That may be the main feature of a truck tracker, but it's not all it can do. They are basically the same as telematics.
HGV tracking systems offer many useful features to make your business easier to manage. Truck trackers show you the exact live location of your trucks at any moment. You can easily see the ETAs and keep your customers update in real time.
Another useful feature are the instant notifications you get in case of a breakdown or an accident involving your truck. You can also use the data sent by the truck trackers to analyse your drivers driving style. This can help you tackle any issues, plan better, save some costs on fuel and repairs. You get 100% reliable driver timesheets in real time and alerts when a truck reaches or leaves any locations of your choice. On top of all that, you can access all this data from anywhere you are, from your phone, tablet, or computer. All you need is an internet connection.
Basically anyone. You may have one truck or an entire fleet, an HGV tracker is always useful. You may be a sole-trader or a big company, your business will benefit a lot from HGV tracking devices.
If your business is in the delivery services field, a lorry tracking system is ideal to keep tracks of your driver's location, their efficiency, ETAs, or extended stops. Or if you're in the freight transport business, you need a good HGV tracking system to keep an eye on the goods you're transporting at any time. HGV trackers give you peace of mind.
Costs of HGV tracking devices and systems depend on your needs and what features you want to add. Truck tracking systems can start from less than £10 a month per truck for the most basic subscription and can go up to several hundred pounds for fleets with detailed or unusual tracking needs. Special offers can be available for fleets with a high number of trucks.
Prices increase in proportion to the amount of hardware you have installed and the data volume you are collecting. Prices also vary depending on the quality of hardware you choose and the number of other services you opt for. For example, if you have vehicle cameras you will pay for them as well.
This is a high concern for business owners who want to know they can rely on the solution they choose.
The short answer is that it's very difficult to disable a GPS truck tracker. Also, any loss of power can trigger an immediate automatic alert to the vehicle owner or business manager, advising that the HGV tracker has been tampered with, which in most cases will be followed up immediately by a call to the police.
Besides the regular GPS truck tracker wired to the battery, many trucks also have another anti-theft asset tracker with its own internal power supply. These can be hidden absolutely anywhere on or under the truck. They are used by national recovery teams who work with the police to track down stolen vehicles. Apart from the GPS signal they transmit two other types of signals as well, which even work underground.
HGV trackers typically look like a small box with a magnetic side. They may have an antenna or a light on it, but not necessarily. They are small, usually three to four inches long, two inches wide and about an inch thick.