Long-Term Van Hire: Comparing the Market for Top Business Deals
If you're looking for van hire for your business, then you may be wondering what the best way to go about this is.
Well, long-term van hire is one option. It can cover everything your business needs for years at a time, saving you money into the bargain over a full vehicle purchase. So, we're here to help you understand what to do—plus, how to compare the market to bag a bargain.
The best vans for long-term van hire
If you want a van, hire long-term to cover your business needs. You can find deals with our comparison service and you can find the right van hire provider for you.
To get you started, here's a selection of some of the best vans on the UK market right now. These will look the part in any fleet and get the job done.
Mercedes-Benz Sprinter: As good as it gets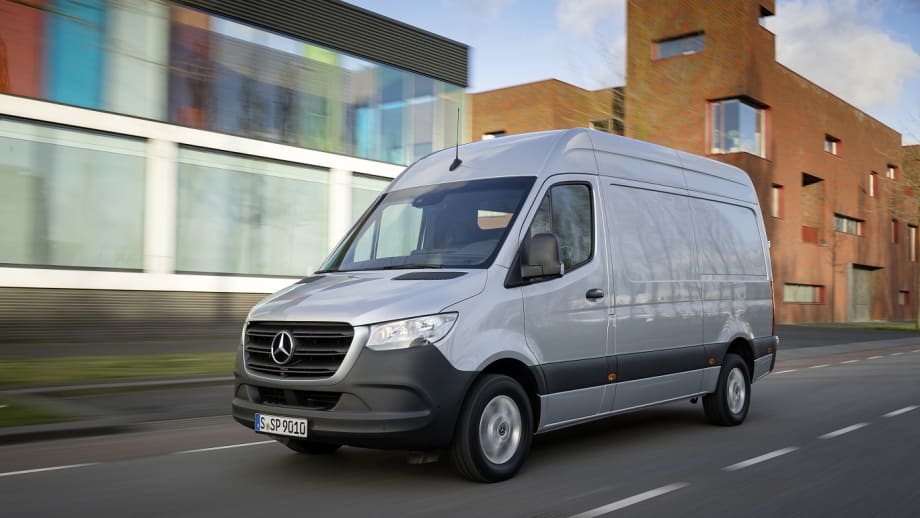 Four vehicle lengths
Maximum cargo volume of 15.5m3
1,000kg payload maximum
Front-wheel drive option
Imagine turning up for deliveries with a fleet of Mercedes Sprinters! Well, you can hire these world-class vans for your fleet right now.
The manufacturer offers comfort and reliability alongside adaptability.
There's a huge cargo space matched by that payload of 1,000kg. And there are four vehicle sizes, with the L1 offering a cargo of 7.8m3 and the L4 at an impressive 15.5m3. It also comes with a huge back of fancy features to make the driving experience safe and serene. This is a Mercedes, after all.
You can check out our complete guide to the best large vans for hire to find more options. Or compare the market now to find your deal.
Mercedes-Benz eSprinter: Go electric
Cargo volume of 11m3
Payload of 731kg
Lower running costs
Battery range of 81-103 miles
The Mercedes eSprinter is like the Sprinter… but its secret weapon here is it's an EV. And that means you don't have to pay for London's ULEZ (or CAZ charges across the UK). It can save you a lot of money in the long-term.
And the bonus? The van is brilliant (as all Mercedes electric vans are)!
With a battery range of up to 103 miles, it's ideal for urban deliveries. Helped along by its maximum payload of 731kg. There's only one size (L2 H2), but its many features and cheaper maintenance options will pay off for any businesses looking to go electric.
It's a great PR boost and EVs really are the future, so why not make the future-proofing step now and long-term hire one of these?
Ford Transit: For businesses that mean business
Iconic brand with world-class vans
Up to 2,410kg payload
4256mm max load length
Various body lengths and roof heights
You get the iconic Ford Transit name with this van. And, boy, does it deliver on that name. The latest model of this legendary vehicle is packed out with technology and it's a more powerful and efficient van than ever before.
There's room for two passengers, you can pick between the L2, L3 and L4 body lengths, and there's the H2 and H3 roof heights.
Depending on the model, there's a maximum payload of 2,410kg. And that's a serious cargo delivery for any business meaning to deliver on its potential.
The smart features also include a Ford EcoGuide system to assist your drivers with saving fuel and improve vehicle maintenance. Plus, there's a pre-collision assist feature and intelligent all-wheel drive to help on icy/muddy roads.
If you seriously want to look the part, and do the best job, then hiring a Ford Transit is one to choose.
All you need to know about long-term van hire
Hire a van long-term and you'll get just that! How it works is that simple. You sort out the contract with a provider, but most deals usually run for one-two years.
For other fiddly details, about expenses and differences to short-term hire, check out the details below.
Long-term van hire prices
Cheap long-term van hire isn't really a thing, you'll always have to pay quite a bit! Prices will vary from one provider to the next.
But you can find the best rates to suit your business needs in no time.
You can quickly work out what costs you're looking at by comparing the UK market. It's free to do and will find you the best deals in no time.
Long-term van hire—no credit check?
Keep in mind most providers carry out a credit check before you get access to van long-term hire. If you fail the credit check, you won't be able to hire the van.
Some providers offer a form of long-term vehicle hire even if your business has a poor credit record. But you may want to consider flexible hire or short-term hire instead to better suit your budget and circumstances.
Long-term van hire has many benefits for businesses. It's just you're locked into a contract for quite some time.
What's the difference between short-term and long-term van hire?
The difference between these two types of contracts is easy to understand:
Short-term hire: These usually only last a few weeks, or sometimes a day (or even an hour) and cover you for short jobs with the most flexibility.
Long-term hire: Can last over a year, usually up to two or three, guaranteeing you a van for that set amount of time.
Which one is best? Well, that's down to your business needs! Consider what you're after and then make a hiring decision based on how long you need a van.
The types of van you can hire
The type of vans you can hire depends on the provider. But you can find everything from small electric vans to large diesel panel vans.
There are many different types of vans and specific models available to suit every business need! Here's a list of the types you can hire:
Panel vans: Fantastic for trade businesses, these small vans have solid panels where windows would be at the side and rear. They're sturdy and reliable, with extra manoeuvrability due to the smaller size.
Courier vans: If you're transporting parcels, and lots of them, then this is a brilliant choice due to the range of models available to suit your needs.
Electric vans: EVs are increasingly popular and offer many perks for businesses, especially those in urban areas (check out our best small electric van guide for examples).
Refrigerated vans: Is food your thing? Do you need to keep cargo chilled when you're moving it around? Then these are for you!
Now, you could spend hours online searching around for the best deal.
Or you can cut to the chase and search the UK market—it's free and you'll find the type of van, and the best deal, to suit your needs. And all in a matter of seconds.
The benefits of long-term van hire
Renting a van in the long-term offers many benefits for your business regardless of which van type you choose. Here are some of the top perks to look forward to!
Top-quality vans as long as you need them
Long-term van hire gets you the vans you need for a long period of time (usually that one-two year contract). Got guaranteed work? Don't want to fork out £40k for a new van?
But want that new van look? Then hiring isif your best bet! You get the van. You get much cheaper rates. And your business more than looks the part.
Reclaim on VAT
The amount of VAT you can reclaim depends on your long-term contract. But you can usually reclaim anywhere from 50%-100%.
If you need to expand your fleet, but want to avoid added charges, long-term van hire can be a good solution. As you can only reclaim 100% of VAT if your vehicle is for business-use.
iCompario tip: Get fuel cards to make refuelling easy
Ready to get your fleet decked out with new vans? Want something else to make life easier? Business fuel cards are your next step! With these handed out to your drivers, you can make refuelling a cinch.
Your drivers simply refuel, pay at the till… and that's it! All from one card. You can manage your online account to keep track of all spending, set transaction limits and easily reclaim tax from HMRC. It's guaranteed to make your life a little easier.
Improve your cash flow with monthly payments
Long-term van hire is a bit like a subscription. Instead of a big one-off purchase, you're making monthly instalments for access and use of the vehicle. These payments:
Give you more control over your costs.
Makes comparing providers easy.
Some long-term contracts come with added benefits, too, so make sure you check carefully with every provider to see exactly what you're getting.
Make van maintenance easy
Some providers handle all the admin and offer discounts. Both major perks!
Not every provider does it, but you may also be able to call the provider to schedule your MOT (or to repair the van) and they'll handle it.
They may have a partner location to handle the vehicle maintenance, which can get you a discount. Some even offer breakdown cover, vehicle insurance or fuel cards alongside their hiring contracts! Always check the fine print to see what you're getting.
No more worries about van value
The value of vans never stays the same. It always goes down over time, so you can't count on them as a stable asset for your business.
The beauty of hiring a van? That's no longer a problem!
With hiring, you don't have to worry about the vehicle's value. Dealing with it is on the provider and not you. Bonus right there.
Time to get sorted with van hire long-term
Okay, now is the time to get yourself some vans! Ready to hire? All you need to do is:
Enter a few business details.
We search the UK market.
You pick from the recommendations.
Comparing the market is free to do, finds you great deals fast and saves you a bunch of time. In the long-term, it'll save you a bunch of money, too.
Which is good! Because this is long-term van hire we're on about here. Compare now by hitting the button below. n-gb/fuel-cards/
Read more about vehicle hire on iCompario
Our Guide To The Best Long Range Electric Vans: 2022
Mercedes Electric Vans: Scale Your Fleet With Cost-Effective EV Hire
Should I Rent a Van For Business Use?
Why Are Vans So Expensive?