The Best European Fuel Cards for Businesses
Use your fuel card across Europe
Unlock exclusive fuel price discounts
Compare to find the best European fuel card for you
The best fuel cards for Europe can give you discounts on fuel prices, management tools and more. But which one should you get?
We've found the best European fuel cards businesses need to see. Keep reading to find all the details or compare European cards now to find your best fit.
What is the best European fuel card?
Selecting the best European fuel card is a must for cross-continental transport businesses. The best cards are Esso Europe, EDC, and DCI Diesel.
Find all the details on each one below or compare fuel cards now to find which one is right for you.
| | | |
| --- | --- | --- |
| Fuel Card Name | Key Benefit | Where to use |
| | Zero minimum monthly spend needed | 15 countries |
| | Toll road and Eurovignette charges on your fuel invoice | 21 countries |
| | Fixed diesel prices for easy budget management | Northern Ireland and the Republic of Ireland |
Esso Europe fuel card
iCompario European fuel card rating: ⭐⭐⭐⭐⭐
Travelling across Europe? This is the best European fuel card for you. It's accepted in 28 countries and over 14,000 stations.
Credit: iCompario
Why the Esso fuel card is the best in Europe
Biggest and best network coverage
No minimum spending requirements
Weekly fixed diesel prices for budget planning
We've yet to find a European fuel card that can match the sheer network size and competitive fuel prices of the Esso card.
Need a fuel card for France? Your drivers are covered in Paris, Bordeaux, Marseilles and the nation's other cities, towns, and regional areas. Do business in Germany? Your company can get the fuel it needs in Berlin, Munich, Dortmund, and elsewhere in the country.
Where can you use the Esso Europe fuel card?
You can buy your fuel at over 14,000 European garages, service stations and supermarkets.
There's no minimum spend that your drivers must make, unlike some other European fuel cards. Sole traders can get this card too with no worries or pressure to buy more fuel than they need.
How to get the Esso European fuel card
Visit our Esso Europe page now to find out more or to apply now below.
EDC European fuel card
iCompario European fuel card rating: ⭐⭐⭐⭐⭐
The EDC is the best fuel card in Europe if you're an HGV driver, coach or other heavy-duty business. EDC is the best option to carry the weight of your fuel needs.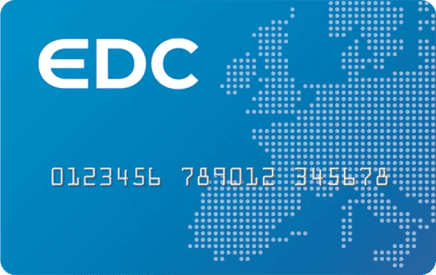 Credit: iCompario
Why the EDC fuel card is one of the best in Europe
Accepted at many key border crossing points
Over 9,000 stations in Europe
Pay for toll roads and Eurovignette
EDC claims that it's the "fastest growing European diesel card". We can see why.
With its "all in one solution for European tolls", the EDC is a handy tool for all fleets. Get all fuel and toll charges on a single invoice to save time on admin!
Plus, with its digital invoice for HMRC compliant VAT recovery facility and fixed diesel prices, this European fuel card is rapidly becoming one of the most popular options for cross-continental businesses.
Where can you use the European Diesel fuel card?
You can fill up your livestock trucks, flatbed lorries, tankers, coaches and other heavy duty vehicles with diesel in over 9,000 stations across 21 European nations.
EDC is constantly adding to the number of garages on its roster. This means you can rest assured that your drivers will never run out of diesel when they're travelling in Europe.
How to get the EDC European fuel card
Head over to our EDC page today to get more information and fill out your application form.
Diesel Card Ireland fuel card
Not every business needs to traverse all of Europe! If you need to go back and forth from the Republic of Ireland to Northern Ireland to Great Britain, then we've got the card for you.
iCompario European fuel card rating: ⭐⭐⭐⭐⭐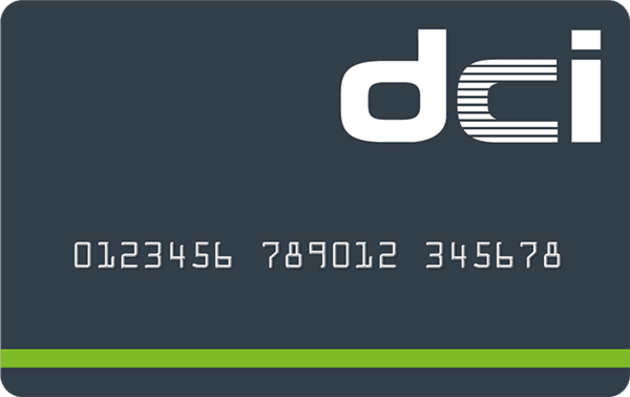 Credit: iCompario
Why the DCI card is a great European fuel card
It lets you buy fuel at a competitive price at the largest network of stations across Ireland.
Ads As a bonus, you get detailed fuel management tools in your online account. See reports on how much each driver is using on your phone, laptop or device wherever you are.
Not only does it let you buy diesel from Belfast to Dublin for your cars, vans, HGVs, and coaches, but it also comes with e-route technology.
This means you can plan your routes so that your drivers don't have to change course to get the fuel they need.
Where can you use the Diesel Card Ireland fuel card?
The DCI can be used in more than 1,200 stations, garages, and supermarkets on the Emerald Isle, covering both the ROI and Northern Ireland.
Its prices change twice a week to ensure it's in line with the global diesel market, so you can be sure you're getting a great price when you refuel your vehicles.
How to get the DCI European fuel card
DCI offers a couple of different Ireland fuel cards. Not sure which one is for you? Compare now and get your DCI card.
iCompario tip: use telematics systems to save on fleet fuel costs
Fuel cards aren't the only tool around to help you save cash, though they're one of the easiest to use!
Telematics fleet systems are one of the best ways for fleets to track their mileage, cut down on bad driving habits, and so much more. If you want to really cut your costs, then you've got to get telematics up to snuff.
Top 6 benefits of getting a European fuel card
European fuel cards are a great way for multinational companies like yours to manage their travel expenses.
They make it simple to refill your vehicles across Europe, meaning that your business can stay on the road while working throughout the continent.
But this isn't the only way that they can help your business. These are some of the other key benefits of getting a European fuel card.
1. Fuel cards give you access to fuel discounts
Fuel cards often allow you to buy your diesel and petrol at wholesale prices. This means that using them can give you discounts that you wouldn't get by paying for your fuel with a traditional company card.
2. Simplifies your account management
One of the best things about fuel cards is that they often have fixed weekly or monthly prices for diesel and petrol.
This simplifies the way you manage your accounts, as you know at the start of your week or month how much will be spent on fuel costs.
3. Makes it easier to pay for road toll fees
Toll fees are something that many multinational companies will be familiar with, as they need to be paid to use many continental roads.
European fuel cards for business use help your drivers to pay these fees and they can be used to cover toll charges throughout Europe.
4. Helps you submit your accounts to HMRC
One of the top benefits of using European fuel cards is that it helps you to submit your company accounts to HMRC.
This is because they create an electronic record of your transport expenses, then produce HMRC-approved invoices that list all of the entries.
Promotes sustainability for your business
Sustainability is becoming more and more important for your customers, but it can be tricky for transportation companies to practice it.
Fuel cards are a great way to promote sustainability because they help your business to go paperless. They do this by producing electronic invoices that account for your travel expenses.
Is it worth getting a European fuel card for fleet management?
Yes. Fleet management is made easier when you use an online account system to track your fuel usage and spending.
You can filter by each fuel card in your fleet to see exactly how much each driver is using.
Fuel cards let your drivers refuel in 28 countries and in thousands of stations.
Fuel cards also give your drivers peace of mind when they make border crossings, as they can be used to pay road toll fees.
So, if your company works throughout Europe then you'd be well advised to check out our fuel card comparison tool now and see which option meets the unique needs of your business.
Who has the best fleet fuel card in Europe?
Esso: best for businesses and sole traders
EDC: best for HGVs, coaches, and fleets
DCI: best for businesses in Ireland
Which European fuel card for business use is right for you depends on what kind of business you are and where you're going.
For most businesses and the self-employed, the Esso Europe card does the job nicely! But it might not be the best option for you.
To find the best European fuel card for your business, compare now.
Read more about fuel cards on iCompario
WEX Fuel Cards UK Guide: Compare WEX Cards in the UK
What is public liability insurance?
Ultimate Guide To Mini GPS Trackers: Asset And Vehicle Tracking in 2022
EV Chargers Northern Ireland: Guide for Businesses 2022