Best Courier Fuel Cards in the UK and Europe
Fuel price discounts at your favourite brands
Digital invoices to speed up paperwork
Cards accepted across the UK and Europe
What are the best courier fuel cards?
The top fuel cards for self-employed couriers are Shell Multi-Network, Esso Europe, BP Plus, fuelGenie, and the FleetOne. Keep reading to find out which one is right for you.
The best fuel cards for couriers make it easier to manage your business, give you a better way of managing your cash flow and offer fuel price discounts.
Best fuel cards for couriers
The best fuel cards for couriers make it easier for you to manage your business, provide you with a way of managing your cash flow and help you to make savings on your fuel costs.
Our experts have highlighted five cards that offer you all of these things. Click on the link below to learn more about the card you think works best for your courier business.
| | | |
| --- | --- | --- |
| Fuel Card Name | Key Benefit | Where to use |
| | Fixed weekly fuel prices | Shell, Esso, Texaco, Gulf, Gleaner |
| | Purchase fuel across Europe | Esso, Shell |
| | Account oversight with Velocity portal | BP, Texaco, Gulf, Esso |
| fuelGenie | Buy fuel at supermarket prices | Morrisons, Sainsbury's, Tesco |
| FleetOne Fuel Card | Accepted at over 3,000 stations | UK Fuels, Tesco, Morrisons, Sainsbury's, Co-op |
Shell Multinetwork fuel card for couriers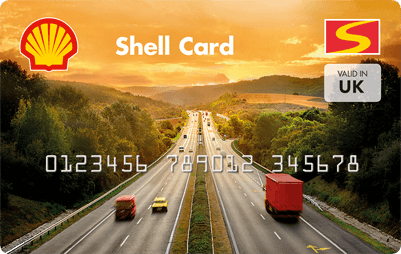 Weekly fixed prices for petrol and diesel
Over 3,500 stations in the UK
Use on the M6 toll
The Shell Multinetwork card lives up to its name. It's accepted by five different brands, though Shell makes up the bulk of where you can use it.
Weekly fixed prices mean you get an update every week on how much your exclusive fuel prices are.
While everyone else is stuck with what the pump says, you have the chance to score lower fuel prices. Plus, you don't have to suffer from random pump price rises in your area because your price is totally fixed for the week. See our guide to pump and fixed prices to find out more.
Should I get the Multinetwork card?
This card is best for couriers across the UK, including those in Scotland and those who use the M6 toll.
For couriers in Scotland, you get the option to use your card at Gleaner stations. The Shell Multinetwork is one of the best fuel cards in Scotland. There aren't many fuel cards for couriers that include this brand, so make sure to have this in your wallet if you're in the highlands.
If you've ever used the M6 toll, then you know how annoying it is! For self-employed couriers, carrying around receipts of your toll charges and your fuel spending quickly clogs up your file. No one wants to deal with a mountain of paperwork.
This card is unique because you can use it to pay for the M6 toll and your fuel all in one. Problem solved.
Esso Europe courier fuel card for drivers in Europe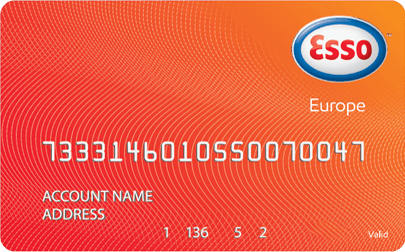 Track your fuel usage on an online account
Pay for toll roads and the Eurovignette with your card
Widely accepted across Europe
Europe is a pretty big place and you'll need a big fuel card to help you get the best fuel prices wherever you go. Here's why.
The Esso Europe card is accepted at over 14,000 stations across Europe, making it one of the most widely accepted cards you can get. Whether you're going to France, Poland, Hungary, or elsewhere this card has your back.
Plus, you get an online account system. See exactly how much fuel you're using at any time on your phone to help you stay on budget!
Should I get the Esso Europe card?
If you're only covering the UK, the FleetOne or Shell-Multinetwork is a better fit.
If you're a courier in Europe? Yes. The Esso Europe card is one of the best fuel cards in Europe for couriers.
BP Plus: best for weekly fixed prices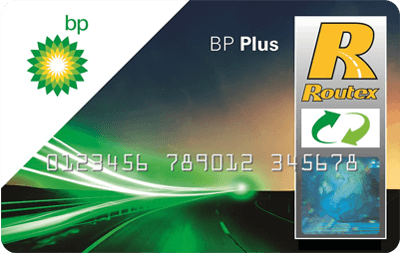 Get fixed prices for your fuel every week
Accepted at 60% of motorway stations
Collect BP loyalty points when you refill
Being a self-employed courier doesn't have to be all about work, work, work. BP fuel cards have a good loyalty scheme, offering up points every time you refill at their stations.
Whether you're driving along the motorways in the UK or just refilling at your local BP station, the BP Plus is a great option. If you don't get it, you're missing out on points and potential fuel savings.
The BP Plus is a weekly fixed price card, so you have the chance at lower fuel prices every week. When prices are low, go and refill!
Should I get the BP Plus card?
The BP Plus is a great fuel card for self-employed workers in general, including couriers. It's a good allrounder that's widely accepted (over 3,400 stations in the UK) so you can't really go wrong with it.
Depending on where you are and what stations you use, the FleetOne could be a better fit. If you're travelling throughout Europe, get the Esso Europe card instead.
FuelGenie for supermarket users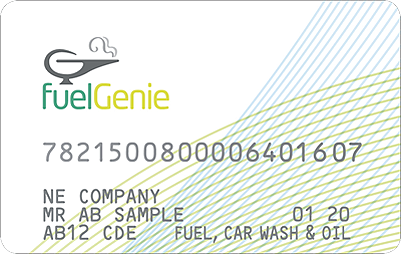 Great loyalty point rewards when you refill
Track how much fuel you're using
Set a credit limit so you never go overbudget
For thrifty and local couriers, supermarket fuel is your best friend. But are you missing out on reward points? If you're not using the fuelGenie card, you are absolutely missing out. This is one of the best loyalty cards in the UK.
Get points every time you refill at your local supermarket with a supermarket fuel card. That includes Morrisons More, Tesco Clubcard and your Nectar points. As far as fuel cards for self-employed couriers go, there's few that can match the practicality and everyday usage of the fuelGenie.
Should I get the fuelGenie card?
If you need a bigger network or don't use supermarket fuel, other cards will be better for your business. The BP Plus has a larger network, fixed prices, and BPme rewards.
The fuelGenie does have a smaller network than most on this list with around 1,350 stations in the UK. But for supermarket users, it's the best option. Go for it!
FleetOne fuel card for couriers across the UK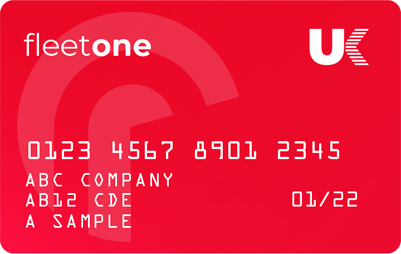 Guaranteed discounts at the pump
Accepted in 98% of UK post codes
Varied network to suit most couriers
The FleetOne is a handy fuel card for couriers. You really can't go wrong with it. Accepted at over 4,100 stations, the FleetOne has the biggest network on our list.
It's one of the best fuel cards in the UK because of its big and varied network. Wherever you are, you've got a lot of choice and plenty of discounts at the pump.
The discounts are always available and can be as much as 10p per litre, but it depends on where you are and where you go to refill.
Should I get the FleetOne card?
If you need a fuel card for courier work in the UK, probably. It's an easy to use discount fuel card wherever you are in the UK. If you drive an electric or hybrid vehicle for courier work, check out the FleetOne Rev instead.
iCompario tip: use fuel cards with your hired courier vehicles
Use your fuel cards with your courier van hire rental! You don't have to have purchased a van to reap the card rewards – all couriers who hire vans can get them too.
If you're hiring a van for a few weeks or even a year, it's well worth getting a fuel card to track your usage and get those handy HMRC-approved invoices for easy VAT reclaims. Otherwise, you could easily miss out on fuel savings.
Benefits of fuel card for self-employed couriers and delivery businesses
Whether you're self-employed or operate a global company, fuel cards are a great way for couriers to manage their costs and the day-to-day operations of their business.
Not sure if getting a courier fuel card is worth it? Here are the top three reasons to get yours now.
Save time and money with a fuel card for couriers
Fuel is one of the greatest expenses for couriers and fuel cards can help your business to save on fuel and save money.
How's a card supposed to cut your fuel spending and help you stay on budget? Here's how it works.
Choose weekly fixed for updates and steady prices to avoid local fuel price increases.
Manage your cash flow using your fuel card account.
Choose pump price savings for guaranteed discounts at the pump.
Download your fuel invoices every month to put in your file. Save time on admin!
Rack up loyalty points with your card to spend on what you want.
1. Courier fuel cards can give you weekly fixed fuel prices:
These can be lower than the price you pay at the pump.
The BP Plus Fuel Card is one of the cards you can use to find savings on your petrol and diesel costs. It can come with the Velocity portal, which allows you to see every fuel transaction made by your business. You can review this information and spot unnecessary spending.
The Shell Multi-Network Fuel Card has weekly fixed prices for both diesel and petrol. In addition to potentially saving you money by paying less than you would at the pump, you can also set transaction limits on the card. This helps to prevent misuse.
2. Manage your cash flow with your fuel card
All companies need to manage their cash flow to stay in business. If you spend more money than you make then you'll eventually be in a position where there's just not enough cash to stay afloat
Fuel cards act as a line of credit that allows your business to buy its fuel immediately and pay for it at a later date.
A further benefit to using fuel cards as a means of credit is that you don't make lots of small payments for petrol and diesel. Instead, all of your fuel transactions are paid via a single bill. This makes paying for your fuel and reimbursing your drivers simpler and more convenient.
3. Get guaranteed discounts at the pump
While fixed prices can be great for some, sole traders love getting savings no matter what! Who doesn't?
The FleetOne is one of the best pump saver fuel cards for couriers in the UK. Whether you refill at Tesco or any UK Fuels station, you're guaranteed to get a little bit off your bill.
4. Download your invoices for easy admin
Taxes are the bane of every sole traders existence. Spare yourself the headache of estimating your mileage or digging through receipts.
Using your fuel card, you get a monthly invoice for all the fuel you've bought. That's 12 invoices a year. Only 12 things to file. Super simple and easy to add to your Self-Assessment to reclaim on VAT.
5. Rack up loyalty points with your courier fuel card
Buying fuel doesn't mean pouring your money into a sink hole. You can get something back for all your spending with the right fuel card.
Some cards like the BP Plus and fuelGenie can give you loyalty points when you fill up at their stations. These points can be used to buy more fuel or stuff at the station. Or you could treat yourself to something more.
Fuel cards for courier businesses and fleets
Fleet management is simpler with account online management.
Fleet management is a vital part of every courier business and it takes a lot of work to get it right. Fuel cards reduce the workload of your fleet managers because they come with account management software.
The software you get from fuel cards helps business manage its fleet in a range of ways:
You get a list of itemised transactions showing who made them, where they made them and how much they cost
You can download a record of your driver expenses
You can set spending limits on your fuel cards to make sure your drivers don't purchase more than they should
There's even customer support to help if you ever have a query about how to use your account management software, so you can make sure you're really getting the best value for money from the tool.
iCompario tip: electric and hybrid fuel cards for couriers
The number of electric vehicles and hybrids in the UK is ever increasing. Getting a plug-in vehicle doesn't mean you have to throw your fuel card out the window, though.
BP, DCI and FleetOne all have options for those in electric vehicles. They offer similar benefits and price options.
How to get a courier fuel card
Getting your fuel card is easy as pie when you do a fuel card comparison. Fill in a quick form to get matched up. From there, our team can help you with your next steps.
You'll need to fill in an application form. Once that's done, you'll get your card in the post. To start saving on time and fuel, find your fuel card now.
Read more about fuel cards on iCompario
Best Vehicle Tracking Systems for Small Businesses
Best Business Phone Systems in Leeds
10 Tips To Improve Fleet Efficiency Management
Van Break-In and Theft Statistics Show Alarming Attitude to Safety