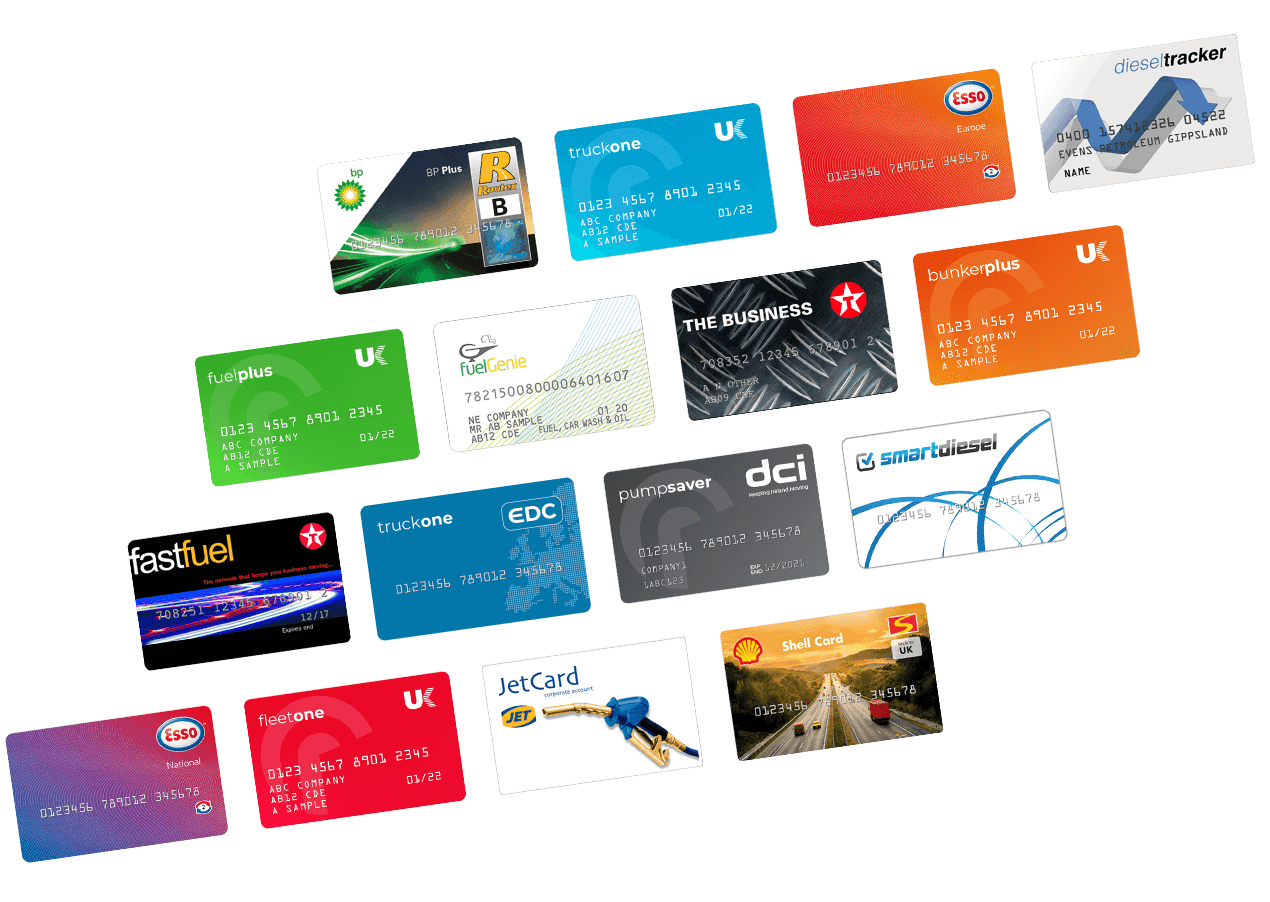 Business Fuel Cards in the UK: Top Recommendations
The best fuel cards for business in the UK packed with benefits
Access major fuel stations across the UK at competitive prices
Compare business fuel cards and apply online

Are you looking to start saving money and keep track of your fleet's fuel usage? Fuel cards for businesses are meant to help you do just that. No matter how big or small your business is, finding the right business fuel card will not only save you money, but also bring you other benefits.
But with so many options available on the market, how do you know which is best for your business? Let's find out together!
| | | |
| --- | --- | --- |
| Fuel Card Name | Key Benefit | Stations in Network |
| | Competitive weekly fixed prices | 3,500+ |
| | Renowned high-quality fuel at fixed prices | 3,400+ |
| | Flexible pricing options | 3,400+ |
| | Excellent network coverage | 4,100+ |
| | Ideal if you use both petrol and diesel | 3,500 |
What is a business fuel card?
Fuel cards for businesses are basically a payment method for companies and sole traders to pay for fuel. And not just for fuel, in fact. With a business fuel card, you can also pay for oil or AdBlue, or pay motorway tolls.
The best fuel cards for business in the UK come with an online management account, where you can see all the transactions made and where you can download HMRC approved invoices. They truly save you not only money, but time too.
There are:
What is the best business fuel card?
The best business fuel cards offer great benefits. You get fuel discounts, account management tools and other extra perks, such as:
Saving you money
Greater control over expenses
Easier VAT reclaims
Monitoring of your fuel purchases
Making it easier to budget and plan
Here are our top five recommendations for the best business fuel cards in the UK.
1. Shell Multi-Network
It's in the name! With Shell Multi-Network, you get a wide station network to go with your fuel card. It's one of the best fuel cards for business in the UK.
Some of its best features include:
Competitive weekly fixed prices
Great online management system and customisable reports
Refill at over 3,500 stations in the UK, including: Shell, Esso, Texaco, Gulf, Gleaner
Use it to pay the M6 toll
Place spending limits
Shell is a familiar sight on the UK's motorways. Its fuel card is pretty great, too! We highly recommend it for small businesses. Or if you're looking for a fuel card for couriers, the Multi-Network is very fitted.
The weekly fixed price can set you up for some great savings. It works like this: every week you get a report on the prices to pay the next week. These prices are based on the wholesale price of fuel. So, you can get great discounts including for premium blends.
If your business takes you on the motorway more than often, then you should check out Shell's Multi-Network card.
2. BP Plus
Refill anywhere in the UK with the BP Plus fuel card. It's our recommendation not only for companies, but also for sole traders on the hunt for a good business fuel card. Looking for fuel cards for taxi drivers? Take a look at the BP Plus.
To name a few of its key features:
Use it at over 3,400 stations including BP, Texaco, Gulf and Esso
Enjoy the renowned high-quality BP fuel at wholesale prices
Benefit from fixed weekly prices to save money on fuel
Enjoy an online account system to track your fuel usage and identify areas to cut down
Secure payment system
The BP Plus comes with a unique benefit – every time you refill, you get BPme reward points that can add up to some great discounts and vouchers.
It comes with weekly fixed prices so you can stay on top of your budget. You'll always know what to expect in terms of fuel prices for the following week. Besides, it's not just fuel you can buy. Use the BP Plus to buy oil and AdBlue.
You also get HMRC approved invoices which can greatly simplify your tax submissions and VAT reclaims.
3. Esso National
The Esso National fuel card is an excellent fuel card for business in the UK, suitable for any local, regional or national business. It can be used at Esso, BP and Shell stations to buy fuel, oil, AdBlue or pay for car washes.
Get key advantages, such as:
Over 3,400 stations in the UK
Automated fuel invoices
Flexible pricing options
Online account system to track your fuel spending
Earn Nectar points with your fuel card
Pay for car washes at over 800 fuel stations
The Esso National gives you the option to choose the price you want to pay. You can choose between a weekly fixed price or the pump price. Either way, you save money.
You can benefit from the fixed weekly price at Esso stations. You pay the pump price at all its partner stations and you still get a small discount at the pump each time you refill. It's a win-win situation.
Do keep in mind that this business fuel card has a minimum spend of £300 per account a month. But that's pretty low for businesses always on the road.
4. FleetOne
As the name suggests, the FleetOne fuel card is an amazing choice for fleets. It features a wide network of fuel stations made up of the UK Fuels network, plus partner stations like Morrisons, Texaco, JET, Tesco and more. Few cards can compete with this card's big network and variety.
Choose the FleetOne for your business fuel card for great perks like:
Access to over 4,100 stations in the UK
Excellent fleet management system
Benefit of pump discounts wherever you are in the UK
Automated HMRC approved invoices for easy VAT claims
Easy to track your fuel efficiency with the Velocity portal
The FleetOne comes with one of the best online account management systems. Use it for good housekeeping! You can limit fuel spending, you can review fuel usage graphs and reports for every fuel card and driver and much more.
Plus, it makes it easy and straightforward to file for your taxes with HMRC approved invoices at the tips of your fingers.
You can refuel at any time as many of the stations in its network are open 24/7. But do keep in mind the FleetOne comes with a monthly minimum spend. Which is why we recommend it best for fleets.
5. Texaco Fastfuel
Looking for the cheapest business fuel card? Texaco's Fastfuel is our top recommendation for drivers who want cheap fuel. It's also a match if you're searching for fuel cards for carers. The card offers wholesale prices for both petrol and diesel.
But it offers much more:
A wide network of 3,500 stations in the UK
Buy fuel, AdBlue, LPG and car washes on the same card
Place transaction limits to control your spending
Flexible pricing options
Automated HMRC-approved invoices to reclaim VAT
The Texaco network is highly extended across England, Scotland, Wales and Northern Ireland. So, it'll be easy to find a Texaco station to refill. But this card can also be used at Tesco, Sainsbury's, Morrisons, independent fuel stations and many more.
It's also a very flexible business fuel card. You get to pay either the fuel prices you see at the pump or get a weekly fixed prices report sent to you.
Save not only money, but also time on bookkeeping with the account management software.
How to get a business fuel card
Getting a business fuel card can have tremendous benefits no matter how big or small your business is. Fuel cards for business in the UK were designed with businesses of all sizes in mind. Which is why there's such a wide range to choose from.
To make sure you're choosing what's right for your business needs, you should do a market comparison. And the best way to do that is to let the experts search the market for you.
Fill in a quick form to give us an idea of what your business needs are and we'll scour the market for the best business fuel cards that match your requirements. We'll send you our recommendations and you'll be then forwarded to the provider of your choice. Next, just sign up and you'll get your fuel card for business within 10 working days. Get your business fuel card with no worries!
Read more about fuel cards on iCompario
Supermarket fuel cards in the UK business guide
Do fuel cards save you money? Yes! And here's how
The Best HGV Fuel Cards in the UK 2023
The Best Fuel Discount Cards in the UK