Types of Fuel Cards for All Types of Businesses
If you do a quick search on Google for 'types of fuel cards', chances are you'll be overwhelmed with the number of options you get. And you can get easily confused trying to choose the right fuel card for your business.
So how do you know which fuel card type suits your business needs the most? Comparing the market for fuel cards is your best option. But if you want to research thoroughly yourself, continue reading to find out what types of fuel cards are available on the market.
What types of fuel cards can you choose from?
When it comes to fuel cards, the options are numerous. Fuel cards are divided into types to make your choice a bit easier. But keep in mind one provider can offer more fuel cards, which can again be confusing. So, when you even have types of Shell fuel cards, how do you choose?
Not every business is the same, so we divided fuel cards based on fuel type to make your choice easier. And we ended up with:
The best diesel fuel cards
The best petrol fuel cards
The best electric fuel cards
And, as a bonus, the best international fuel cards
Fuel card
Best feature
Where you can use it
Excellent motorway coverage
Over 1,040 Shell fuel stations
Great quality diesel
BP, including 600 bunker refill stations
Get supermarket fuel prices
Morrisons, Sainsbury's, Tesco
Best for cars and vans
BP, Texaco, Gulf, Esso
Best choice for mixed fleets
4,000+ EV charge points
3,350+ fuel stations
Perfect for businesses operating in Ireland as well
1,000+ EV charge points
1,700+ fuel stations
One of the biggest networks in Europe
Esso and Shell stations across Europe
Great choice for all HGVs and coach companies
Over 9,000 stations in Europe
Types of fuel cards: best for diesel
If you manage a large fleet business, it's very likely your vehicles run on diesel. And finding the right diesel cards for your business can be tough. The options are many, the benefits are all shiny.
The best diesel cards come with an online management system to speed up your paperwork, help you manage costs better and make all fuel-related operations easier.
And these are our two recommendations for the best diesel cards.
Shell CRT fuel card for diesel vehicles

There are more types of Shell fuel cards out there. But the Shell CRT fuel card is the perfect choice for businesses logging many miles on the motorway. Here's why:
Use the Shell CRT at over 1,100 Shell stations, with more than half being located on all the motorways in the UK.
Use it to buy Shell's premium fuel to protect your engine.
Take advantage of weekly fixed prices for diesel and avoid day to day price fluctuations.
Set spending limits to control your fuel costs better.
Use the online management tool for clear, concise billing and HMRC-approved invoices.
The best types of fuel cards for diesel: BP Plus Bunker
If you're an HGV driver or the manager of an HGV fleet and you want top quality scientific diesel that gives more miles per gallon, then this card is for you.
This is what the BP Plus Bunker fuel card has to offer:
Fill up on BP Ultimate diesel to help your engines last longer. It clears deposits from the engine to achieve peak performance.
Use it at over 1,200 BP stations, including 600 bunker refill stations.
Choose from fixed weekly prices based on the wholesale oil market or pump price for a discount.
Use it to buy AdBlue as well.
Use the online management tool to check your fuel usage.
Types of fuel cards: best for petrol
Do your business vehicles run on petrol? Then you could definitely use a petrol card. But with so many options available, which one should you choose? Tough choice, we know.
To help you, here are our top two recommendations for petrol cards for business.
fuelGenie for access to supermarket fuel
Do you fancy low-cost supermarket fuel for your business? Then this card is for you! The fuelGenie fuel card can be used at the biggest branded supermarkets, renowned for their low-cost fuel.
Choose the fuelGenie for benefits like:
Use your fuel card at over 1,350 supermarket stations including Morrisons, Sainsbury's and Tesco.
Collect supermarket loyalty points every time you refill.
Get a guaranteed discount on the petrol that you buy at supermarket pumps.
Easily reclaim VAT with HMRC-approved invoices.
BP Plus fuel card for a wide network
If your fleet is made up of cars and vans, the BP Plus fuel card is an excellent choice. It gets you access to one of the biggest networks in the UK. Among other benefits like:
Access more than 3,400 stations, out of which 60% are found on the motorway. Use it at BP, Texaco, Gulf and Esso stations.
Get significant savings with fixed weekly prices for fuel.
Use the online account system to track your spendings and fuel usage and find areas to cut down.
Get HMRC-approved invoices, making it easier to claim back the VAT on the petrol that your company buys.
Electric fuel cards to keep your business supercharged on the roads
Like it or not, we're in the middle of the green revolution and we must all adapt to succeed. The transition to electric vehicles is now in full force and many businesses have already started the switch. We bet you've seen Amazon electric vans all around.
If your company uses hybrid or electric vehicles, then you're in luck. We now have electric charge cards, too. And they're packed with benefits just like your regular fuel cards.
Here are two of the best EV charge cards on the market:
Electric types of fuel cards: FleetOne REV
You don't need to have an all-electric fleet to use this card. The good news is the FleetOne REV card can be used both to charge your electric vehicles and to pay for petrol and diesel. And the benefits don't stop here.
Use it at 4,000 electric charge points including NewMotion, IONITY, HastoBe, Fastned, EV-Box, ESB Group, Osprey.
Refuel at over 3,000 service stations, including Morrisons, Tesco, Sainsbury's, Coop, UK Fuels independent fuel stations.
You get one invoice for both fuelling and charge costs for easy-to-do taxes.
Control your spending with transparent fuel and electricity prices that you can check in a smartphone app.
DCI One REV to charge your business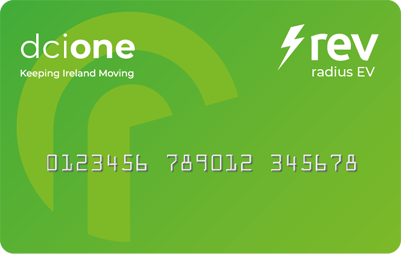 Operating in Ireland and Northern Ireland with hybrid or electric vehicles and looking for an electric fuel card? Look no more! The DCI One REV card is the perfect choice for you. With it, you can do things like:
Use it to charge your EVs or pay for conventional fuel.
Use it at over 1,000 electric charge points in Ireland, including ESB, NewMotion, IONITY and Fastned
Refill at over 1,700 service stations including Maxol, Texaco, Amber, Circle K, Star, Emo, Top and more.
Pay a flat rate, which doesn't change no matter if you use rapid charge points or standard ones.
Get all your payments on one invoice for simple paperwork.
What types of fuel cards are best for international businesses?
If you're operating across the border, an international fuel card can save you lots of trouble. It's never pleasant dealing with tons of receipts in different currencies. Luckily, you have a few really good options for a fuel card.
Esso Europe for hassle-free international travels
This is an excellent choice for all kinds of international businesses. Gain access to thousands of Esso and Shell pumps throughout the continent with the Esso Europe fuel card. Get many other perks, too:
Use it at over 14,000 Esso and Shell stations across Europe.
Pay Eurovignette and toll roads with the same card and get everything on the same invoice.
Take advantage of weekly fixed prices for fuel.
Manage your expenses easily in the online management system.
EDC Fuel Card for great international diesel prices
Driving HGVs or coaches around Europe? Then, you should most definitely get the European Diesel fuel card. The EDC card comes with many features that you'll find extremely useful.
Benefit from fixed prices for fuel, so you always know exactly how much you're paying.
Use this card at over 9,000 stations across Europe.
Buy fuel and pay for Eurovignette and toll roads using the same card and see all your transactions in the online management account.
If you're worried about minimum spend, worry no longer. There's no minimum spend with this card.
What other types of UK fuel cards can you find?
It may well be that a classification based on fuel types is not enough to help you make a choice for a fuel card.
In which case, you should consider what type of business vehicles you have, what size your company is and what your fuel needs are.
There are different types of fuel cards designed specifically for large fleets or for small businesses or for sole traders. We've written about them before, so we'll let you read and discover them:
The list can go on. If your type of business is not on the list, just take minute of your time and we'll help you find the best choice.
Fill in our quick fuel card form to give us a few details about your business, we'll compare the market based on your needs and then we'll get back to you with the right fuel card provider.
Read more about fuel cards on iCompario
Best Courier Fuel Cards in the UK and Europe
Cheapest fuel cards in the UK for 2022
The Biggest and Best Fuel Discount Cards in the UK